There's a reason John Malone is one of the richest guys on the planet.
Talking to Walt Mossberg at the AllThingsD conference in Carlsbad today, the cable billionaire suggested that the future of media consumption is going to involve payment, much like the pay-TV model of a generation ago that complicated the world for the comfy television broadcasters.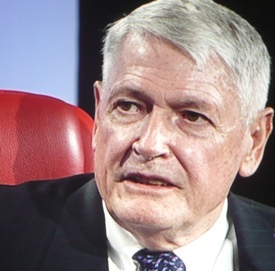 Asked about the economic model for content on the Internet, Malone said it's all about who gets to aggregate it. But one way or another, people will end up having to pay.
"People will pay per view, or on a subscription basis, if the quality is there," he said. "But will it be the aggregator doing that," or the content creators themselves, he asked.
The NFL would be just as happy to serve up its sports games itself, without having to go through a distributor. "They could sell the advertising and cotrol the medium. The question is, 'How much content has that much brand value to the consumer?'" he asked.
The chairman of Liberty Media and CEO of Discovery Holding made his fortune in cable TV, as the head of the cable behemoth Tele Communications. And he said there was plenty to compare between the business conundrums of the Internet, and the beginnings of pay television.
When it came to a video on demand service, Malone's Vongo, he "tried to play aggregator," and it didn't work. The company couldn't get enough of the rights to movies and TV shows to make a big enough impact with the consumer audience.
Similarly, "Zulu … Hulu … whatever," he said, "it runs the risk of alienating the existing distribution economics."
"A lot of it has to do with training the public," he said. "It takes a while in statistical numbers to change behavior patterns."
As to the problems facing newspapers, Malone confessed he didn't have a solution and said he was concerned for the survival of local news.
"Obviously, print will go away," he said. "What's the role of local news? Are there going to be local advertisers? Or will they all be national? I really don't have the answer."
He pointed out that Barry Diller had attempted this advertising play with CitySearch and that it is only break-even at this point.
"Does everything have to be national in scale, or even global, to be economically viable?" he asked. "Clearly, this model is under stress right now."