A slimmed down Jonah Hill spoke about his upcoming Fox animated comedy "Allen Gregory" at the summer Television Critics Association press tour on Friday, saying that the biggest influence on the sitcom about an bossy, brainy 7-year-old was the 1998 Disney film "Mulan."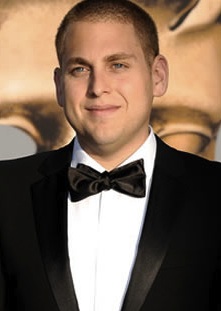 He was joking, of course.
You might not have known he was kidding for the first half of the lunch session, when jokes from Hill and the other panelists elicited only barely audible chuckles from the gullets of the assembled group of jaded reporters, who have to be approaching saturation point after 11 straight days of hearing celebrities and showrunners talk about their shows.
"Calm down, or we're going to get a noise complaint about all the laughing," teased Hill.
"This is like the worst class reunion I've ever seen — or a bad wedding," added castmate French Stewart, referring to the standard-issue table set-up in the ballroom at which the event was held.
But soon Hill, Stewart and the other panelists, including fellow voice actor Nat Faxon, had the tired critics cracking up.
Discussing the overall development deal he signed with Fox back in January, Hill said that he'll have a big announcement relating to that soon but that he could reveal that "we're remaking 'Diff'rent Strokes,' only with all elderly people." (Again, joking.)
Describing himself as "a lifelong 'Simpsons' fanatic," Hill said that the show differs from the established comedies it will be wedged between on Sunday night's "Animation Domination" in more than just its classic "Mad Men"-inspired visual style. He also shot down comparisons between his protagonist and a certain precocious toddler from "Family Guy."
"Stewie wants to kill his mom and end the world, and Allen Gregory just thinks he's great," he said.
A reporter asked whether the lead time required with animation had made topical jokes difficult.
"We've got some good O.J. jokes in there," Hill said. "Five years from now, we're going to have a Casey Anthony joke that you guys will love. It's going to be so great."
He was also prompted to speculate on what the show's core audience might be.
"The core audience is zero to 100," said Hill. "Anything over the age of 100, I don't think they'll get the humor — it'll be too edgy. Anything under zero, they won't be alive."
"Allen Gregory" will debut Sunday, October 30, at 8:30 p.m., between "The Simpsons" and "Family Guy."