Veteran journali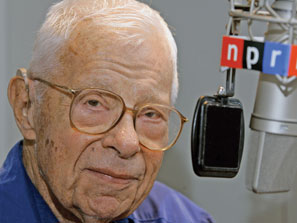 st Daniel Schorr has died. The former National Public Radio lion and CBS correspondent was 93.
He died at a Washington hospital after a short illness.
The feisty, often opinionated Schorr covered Watergate, the Iran hostage crisis and the Bill Clinton impeachment trial in a career that took him from broadcast and cable news to newspapers to public radio.
His coverage of the Nixon White House for CBS earned him a spot on the president's infamous "enemies list."
Schorr would go on to win three Emmy Awards during his time at CBS, but his 1976 parting with the network was controversial. Schorr revealed the contents of the Pike Committee report on illegal CIA and FBI activities. However, even during a congressional investigation into the leak, he refused to identify his source on First Amendment grounds, angering CBS executives in the process. He resigned from his position that same year.
In 1979, Schorr was tapped by Ted Turner to provide commentary for his nascent cable network news channel, CNN. After being fired from that position in 1985, Schorr signed up to be a senior news analyst at NPR.
At NPR, his gravelly voice could frequently be heard speaking authoritatively about the news of the week on "All Things Considered" and "Weekend Edition." He also penned a weekly column for the Christian Science Monitor.
As an elder statesman of journalism, Schorr was a fixture on the lecture circuit. Due to his battles with network executives at CBS, scuffles with the Nixon administration and gravitas, Schorr came to embody journalistic integrity for many.
He is survived by his wife, Lisbeth, son, Jonathan, and daughter, Lisa Kaplan, and one grandchild.