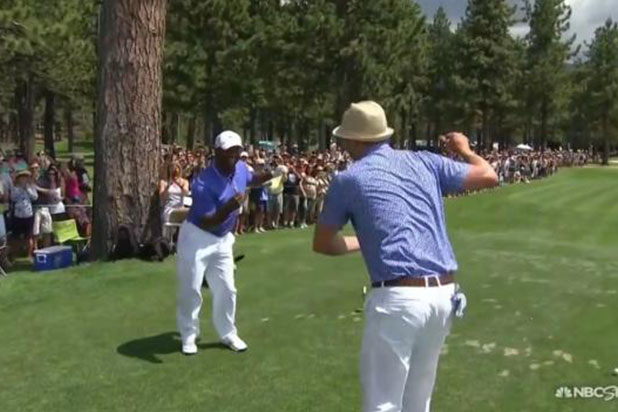 Justin Timberlake and Alfonso Ribeiro busted some moves while playing the American Century Celebrity Golf Tournament in Lake Tahoe this week, when they broke out the famous "Carlton" dance from "The Fresh Prince of Bel-Air."
Ribeiro seemed unhappy with his swing as hundreds of onlookers watched the ball hit the rough. Upon seeing his disappointment, Timberlake urged the "Dancing With the Stars" winner to do the famous dance.
The crowd went wild as they watched the duo perform the dance that is synonymous with Ribeiro's character, Carlton, in "The Fresh Prince of Bel-Air." Tom Jones' "It's Not Unusual" sparked the evolution of the dance.
Also Read: iHeartRadio Music Awards Winners List: Taylor Swift Tops the Night With 3 Awards (Video)
After the arm-swinging and hip-shaking, Timberlake and Ribeiro high-fived and laughed.
"The Fresh Prince of Bel-Air" aired from 1990 to 1996 and starred Will Smith, James Avery and Karyn Parsons. Ribeiro played Carlton Banks, and he recently won the 19th season of ABC's "Dancing With the Stars," alongside Witney Carson.
Also Read: Alfonso Ribeiro to Replace Tom Bergeron as Host of 'America's Funniest Home Videos'
Watch the video below.