Kristin Chenoweth stuck her nose into the Anthony Weiner sexting scandal on Tuesday's "Tonight Show," belting out a parody of "Popular" from the Broadway show "Wicked."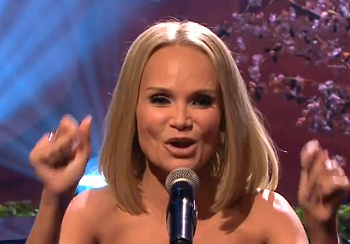 Also read: Anthony Weiner NY Mayoral Poll Flaccid Following New Sexting Scandal
Assuming the role of image consultant, Chenoweth offered to help the besieged New York mayoral candidate rehabilitate his image.
Sample lyrics: "I'll teach you to zip your fly, you won't be that guy with a camera down his pants."
And: "They'll think you've become a monk, though they've seen your junk."
Also read: Anthony Weiner Communications Director Goes on Expletive-Laden Rant Against Intern
Weiner could do well by taking on Chenoweth's offer. Following fresh allegations that he had sent inappropriate photos and messages to a woman who is not his wife, Weiner has suffered in his bid to become New York City's next mayor.
Polls taken after the sexting news broke show Weiner slipping behind his Democratic opponent Christine Quinn. Which is hopefully the only way that e's slipping behind Quinn.
Watch Chenoweth dispense her advice.