Despite the social gravity of a short week, NYC's September Fashion Week and Sunday night's MTV Video Music Awards, L.A.'s party circuit came roaring back to life last week.
Rainn Wilson
headlined and moderated the WGA's pre-Emmy "show and tell" of their highest profile nominees at the WGA theater on Wednesday night. A comically defensive Wilson was out to prove he's more than "Dwight" from "The Office." Toting his own WGA award statue up on stage in a flimsy plastic shopping bag, he whipped it out in the first minute to win over the overflowing theatre of doubting scribes. After being rejected by "Lost" honchos
Carlton Cuse
and
Damon Lindelof
(Wilson: "Can I be on the final season of 'Lost'?" Cuse/Lindelof: "Let us think about it … No."), Wilson threatened nominees on the panel from cable shows "Mad Men," "The Daily Show" and "Grey Gardens" that he has more Twitter followers than they do viewers. (Wilson has 1.3 million followers).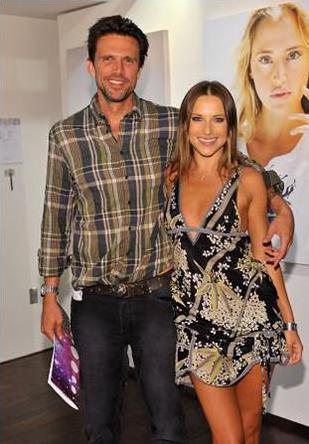 Also on Wednesday,
Don Cheadle
,
Cuba Gooding Jr
. and "Twilight" director
Catherine Hardwicke
hit the Film Independent event hosted by Vanity Fair and Banana Republic at the W in Westwood. Cheadle and Gooding (
pictured above with Film Independent's Dawn Hudson
)
came to support Project: Involve, exposing underrepresented communities in the film industry.
Meanwhile the TV crowd of Stephanie Pratt, Holly Montag, Jessica Stroup and Dustin Milligan, who all star in L.A.-based TV shows, hit the town together. The four came to sample the L.A.-based SumCreative clothing line at the 9Planet Universe launch at Zune L.A. New "Dancing with the Stars" partners Ashley Hamilton and Edyta Sliwinska (at right) arrived late, coming straight from the dance studio, where Sliwinska said she's busy helping make actor Hamilton "less awkward" before the imminent premiere.
William H. Macy
and
Sharon Stone
(
below left)
modeled their totally not awkward smiles during an award handout for dental-themed charity A Smile for Every Child on Thursday. "Spider-Man 4" producer
Todd Fisher
also hit the event, while the star of his recent movie "The Taking of Pelham 123,"
John Travolta
, surprised everyone by a
ppearing with wife/costar
Kelly Preston
at the official Disney fan expo "D23" in Anaheim the next day. (The Travoltas came to promote their Thanksgiving film "Old Dogs.") As a family promo stop, they outshined "Captain Jack,"
Johnny Depp
, who made an unannounced trip south for the studio's promote-a-palooza convention for dedicated Disney fans.
"Prince of Darkness" Ozzy Osbourne crowned the week at the Sunset Strip Music Festival. The second annual street festival brought a taste of Coachella to West Hollywood, shutting down the strip for an all-day concert and party on Saturday. In addition to the musical men of the moment, LMFAO, actress Taryn Manning's band rocked the crowd, while her Oscar winning castmates from "Hustle and Flow" Three Six Mafia beat the heat earlier by hitting the virtual greenroom suite (and popular clean bathrooms) provided by local stations KIIS and 987 FM inside the appropriately named Live on Sunset store. Inside, TV's busiest dancing judge, Shane Sparks (currently starring on both Fox and MTV), grabbed Sweet E's "personalized cupcakes for the stars," as Jesse Metcalfe and other talent hiding under hats and glasses jockeyed for freebies from a mobile spa.