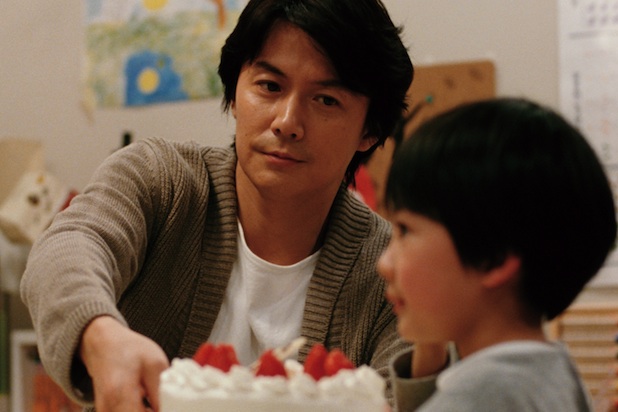 It may have been bypassed by Japan's selection committee for the Oscar foreign-language race in favor of a film that didn't make the shortlist, but Hirokazu Kore-eda's "Like Father, Like Son" won the Jury Award at this year's Cannes Film Festival. And in the aftermath of that festival, it got another honor when jury chairman Steven Spielberg's DreamWorks bought the American remake rights.
The richly detailed drama, which opens in Los Angeles on Friday after launching in New York last week, tells of two Japanese families who learn that their six-year-old sons had been accidentally switched in the hospital where they were born. Inspired by a number of stories from Japan in the late 1960s, it finds the two very different families caught in a dilemma that is explored with nuance and wit, and with an eye for the ordinary details with which lives are filled.
Also read: Cannes: Sundance Selects Nabs U.S. Rights to Jury Prize Winner 'Like Father, Like Son'
Hirokazu Kore-eda spoke to TheWrap through a translator about his own experiences with fatherhood, the American remake and this snub at the hands of Japan's Oscar committee.
How did you decide on this topic for a film?
Initially, before I even came up with any particular idea, the lead actor, Masaharu Fukuyama, approached me about working together on something. I came up with several different plots. One was about a heart surgeon, another was about a poet. And I decided if I made him a father, I could mine my own experiences with my daughter, and all the joys and anxieties and discoveries that I've been experiencing.
This one felt like it had a manageable budget, and the theme was very close and personal to me.
Do you need to find that personal connection when you're making a movie?
Not necessarily. I certainly do want to be able to eventually make films that are not so personal in nature. But right now what's immediate to me is my relationship to my daughter. That's something that has urgency.
Why focus the story on children switched at birth?
I had begun to think about the idea of whether you choose nature or nurture, whether you choose bloodlines or the time shared with the child. When I was shooting my previous film, I had to be away for a month and a half. And when I returned, my daughter, although she knew that I was her father, there was a part of her brain that had basically reset everything. There was a certain awkwardness, and when I came home she didn't come rushing to me saying, "Daddy!"
I was only able to spend one night before I had to leave again, and as I was leaving, she came to the front door and said, "Hope to see you again soon." And at that moment, I knew there's a part of her memory that is gradually wiping me out, because I'm not around enough.
That was a shock to me, and I realized that the time you spend with your child is very precious. And what I decided to do was to put our protagonist in a situation where he's very much confronted with that duality. Whether you choose blood or the time spent.
See video: Steven Spielberg's 'Extant' Starring Halle Berry: First Teaser Offers Definition, Fetus
So were you away from your daughter for a long time shooting this movie?
I did have to be away during the shoot, but after that moment when my daughter said, "Hope to see you again soon," I knew that this was very serious. So I decided, no matter how busy I was, to always have breakfast with her each morning. Often I would be coming home at a very late hour, but I would always force myself to wake up for breakfast. Just spending 15 minutes each morning with my daughter made all the difference in the world.
As a father, I find it impossible to imagine even considering the idea of giving up my son if somebody had come to me when he was six and said he wasn't my biological child.
Across different cultures, you're always going to see people responding differently. When this happened in Japan in the 1960s, it was in fact the truth that most people chose the blood child, which surprised me, too. Then, as opposed to now, most Japanese families did have more of an inclination to value blood ties and carry on the family lineage.
In Japan today, most people would probably say they would have a very difficult time letting go of the child they had been raising. And yet it's true that in Japan, adoption hasn't really taken much of a hold. It seems like there's still a deep-rooted value placed on blood ties, to this day. And the protagonist in this film, I deliberately wrote to be much more of an old fashioned character who has very traditional values.
Did you talk to Steven Spielberg about remaking the film at Cannes?
No. After the awards ceremony, we spoke about his feelings for the film. And after Cannes, we started getting interest from a lot of different companies who wanted to do a remake. We just thought that since Cannes was where it all started, and he was the head of the jury, that he would be the right person for it.
Will you be involved in the English version?
No. In late September I did visit Spielberg, and we talked about the film. He invited me to visit the set, which I would hope to do. But in terms of the writing, the casting, the production, that's completely out of my hands.
Also read: Oscar's Foreign Language Chair Promises Big Changes After This Year's Awards
Were you disappointed that the film was not chosen as Japan's Oscar submission?
Yes, of course I was disappointed. But honestly, given the track record of how that committee in Japan decides on their films, I was not surprised. The committee isn't particularly interested in the world's criteria on these films.