Daniel Day-Lewis is a winner. Steven Spielberg is on the rebound. Ang Lee's slice of "Pi" will divide voters. And Denzel Washington's drunk act is just what Oscar ordered.
But the folks who came out of the New York Film Festival raving about "Lincoln," "Life of Pi" and "Flight" were probably a little more excited than they should have been.
Those three films, all of which screened over the last two weeks in New York, were said to be stunning successes by some ardent early admirers. And while they are certainly formidable awards contenders in many categories – and likely winners in at least one – the verdict from this coast, absent the enthusiasm of an excited film-festival audience, is more muted than the bold proclamations for all three that came out of NYFF.
And as a result, the Oscar race, at least in the Best Picture category, still feels unsettled. It still feels as if we're awaiting the arrival of a real game-changer to seize the momentum.
Also read: 5 Lessons From the Toronto Film Festival
Maybe that'll be Tom Hooper's "Les Miserables," or Kathryn Bigelow's "Zero Dark Thirty" or Quentin Tarantino's "Django Unchained" – or, less likely, Gus Van Sant's "Promised Land," Peter Jackson's "The Hobbit" or Sacha Gervasi's "Hitchcock."
But until those films screen, we're left with the early-year films that still have traction ("Beasts of the Southern Wild," "Moonrise Kingdom," "Amour," "The Intouchables"), with the heavy hitters from the Venice, Telluride and Toronto festivals ("Silver Linings Playbook," "Argo" and "The Master" foremost among them) and with the new crop.
Of the latest group of films, I'd say that both "Lincoln" and "Life of Pi" are likely Best Picture nominees, and that "Flight" should receive a number of noms that might not include picture.
"Life of Pi," which opened the NYFF, was described by TheWrap's Leah Rozen as "bravura filmmaking that combines the latest technological wizardry with heartfelt storytelling."
Also read: 'Life of Pi' Review: Ang Lee Takes a Leap of Faith – and Soars
A 3D adaptation of Yann Martel's 2001 bestseller, it tackles a book that seemed all but unfilmable: the story of a teenage Indian boy nicknamed Pi (newcomer Suraj Sharma) who survives a sinking ship, only to find himself sharing his life raft with an orangutan, a wounded zebra and most notably a Bengal tiger named Richard Parker.
I'm not convinced that the film needed to be in 3D, but the visuals are stunning and the effects startling; it's the story itself that occasionally presents problems.
Particularly troublesome is the framing device of having a grown-up Pi (Irfan Khan) tell his story to a reporter. The conceit is clunky, and it slows down the film's momentum – but it's also necessary that we know from the start that what we're seeing is one person's version of what happened on the open sea. I didn't like the framing device, but I don't see how Lee and screenwriter David Magee could have done without it; it lays the groundwork for a crucial third-act twist that I thought was handled exceptionally well, thanks largely to Khan's moving performance.
As dazzling as it is in places, I don't think "Life of Pi" will get the across-the-board support it needs to win – but the people who love it tend to love it with a passion, which is exactly what a film needs to land a Best Picture nomination under the Academy's preferential system.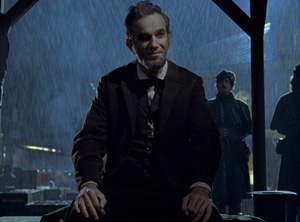 "Lincoln," which officially premieres as the closing-night attraction of the AFI Fest on Nov. 8 but screened in New York in what was billled as an unfinished version, is afflicted with none of the grandiosity and schmaltz that to my mind sunk Spielberg's 2011 film "War Horse." (Oscar voters, it must be said, disagreed with me; they rewarded that movie with a best-pic nod last year.)
TheWrap will have a full review of the film when it opens — but for now, I'll just say that its Oscar chances look good. Apart from the brutal but brief battle scene that opens the film, "Lincoln" focuses on the war that took place in the House of Representatives in early 1865, not the one that was being waged on battlefields in the South. Talky, slow and internal in a way that might hurt its chances of winning, it is also the rich and resonant chronicle of a tired, beaten-down Lincoln risking all his political capital to pass the Thirteenth Amendment, which will abolish slavery.
Playing Abraham Lincoln, two-time winner Day-Lewis is utterly commanding and absolutely undeniable as a charismatic and pragmatic man who has been beaten down by years of civil war and political fights. And crucially, the world-weariness and pain that Day-Lewis shows in every frame helps save Spielberg from his worst impulses toward grandiosity and overstatement.
The characters in "Lincoln" are playing for huge stakes, but the movie is rarely overblown; John Williams' music is uncommonly gentle (borrowing a bit from the instrumental palette we've associated with the Civil War since Ken Burns' TV doc), with none of Williams' usual soaring moments until the end credits.
Given the Academy's apparent diffidence toward Paul Thomas Anderson's thorny and difficult "The Master," my guess is that Day-Lewis is now a likely winner over Joaquin Phoenix's admittedly riveting performance in that film. And Tommy Lee Jones' delicious, scene-stealing turn as unlikely Lincoln ally Thaddeus Stevens will certainly make him a strong contender in the Supporting Actor race.
(Sally Field may well be nominated for Supporting Actress for her Mary Todd Lincoln, but to me her hysteria was one of the least-successful parts of the film.)
Another past winner, Washington, has certainly muscled his way into the race with "Flight," Robert Zemeckis' first live-action film since "Cast Away" in 2000. The role of a self-destructive, alcoholic airline pilot is not only Washington's meatiest role in years, but one that plays right into the Academy's sweet spot.
Much of the attention has gone to a harrowing plane-crash scene that comes early in the film, and that sequence is indeed a brilliantly orchestrated 20 minutes of terror. But after that, the film grows smaller and tighter, turning into a character study of a man whose uncommon skills as a pilot are hardly enough to save him from the repercussions of crashing a plane with alcohol and cocaine in his system.
Washington's performance is tough and mean and he doesn't ask for sympathy; both he and Kelly Reilly, who plays a bottomed-out drug addict he befriends, will likely garner — and deserve — plenty of awards attention. (It may be a tougher go for her, just because he's a star and she's an unknown.)
But the movie itself follows a trajectory that may not impress voters: it starts out big and bold, gets smaller and quieter, and takes some third-act missteps with an over-the-top hotel-room scene and a perplexing hearing scene, among others that bring the film to a disappointing close.
In a year that already seems uncommonly deep, I'm not convinced that "Flight" will find a home outside the Best Actor category. But I could be wrong; Zemeckis has been here before, and his solid and occasionally gripping return from the wilds of his motion-capture films ("The Polar Express," "Beowulf," "A Christmas Carol") could well be embraced by voters.