A week before she's due to start serving her 90-day sentence, Lindsay Lohan is running out of time … and money.
Lohan went looking for a new lawyer last week after parting ways with longtime attorney Shawn Chapman Holley on July 8. Lindsay is scheduled to herself on July 20 to start her sentence at the Century Regional Detention Facility in Lynwood, Calif., for violating her probation steaming from a 2007 DUI.
Reports were that the "Mean Girls" actress had settled on Stuart V. Goldberg after the Chicago based criminal attorney flew in to Los Angeles over the weekend to meet with Lohan. However, Goldberg tuned Lindsay down, telling People that the actress and her mother "didn't seem to understand the urgency and gravity of the situation."
The lawyer also seems to have another reason for not going the Lohan trainwreck– Lindsay can't afford him. "Goldberg wanted a retainer and other financial assurances," a person close to the case told TheWrap, "and Lindsay simply doesn't have the money."
In fact, with only Robert Rodriguez's Grindhouse homage "Machete" (Sept. 3) in the can and nothing substantial lined-up filmwise – not to mention a lawsuit from a Hollywood boutique for almost $17,000 — Lohan's professional life has hit the skids nearly as hard as her personal life.
The 24-year old actress' only real form of income is the couple of grand she picks up for promoting diet aids, handbag sales and other accessories on her Twitter account and the odd photo shot.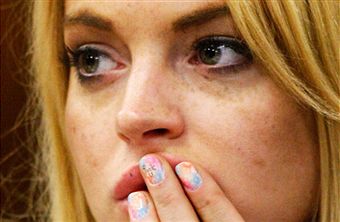 However, Lohan is hoping for a big payout when she gets out of the big house, the person close to her case says.
"Lindsay's been shopping around an exclusive post-jail interview to the tabs and the glossies," the source noted. "She's hoping to get close to a million – or at least what Paris wanted." (The heiress and sometime Lohan clubbing buddy was jailed for a short stint at Century Regional Detention Facility in June 2007 for a DUI of her own.)
But Hilton might not be the best role model for Lohan … especially if Lindsay's looking to make some dough. Though Hilton looked to make a cool million when she got out, negative public and media reaction eventually saw an underwhelming Paris talking to Larry King for free.
With or without a lawyer, Lohan's options seem equally limited when it comes to appealing Judge Marsha Revel's 90-day jail sentence.
"Traditionally when a sentence is within the statutory range — and this one is — it's very difficult to prevail on appeal. "You'd have to argue that the sentence constituted cruel and unusual punishment," said defense attorney Mark McBride, who's represented troubled celebs before, including Tom Sizemore.
He says Lohan's "best bet is to take a very narrowly crafted appeal and, at the same time, ask the court to allow her to remain on bond pending the conclusion of any appeal."
The lawyer says the actress needs to move fast and with a public image focus, especially with the issue of her extensive prescription drug becoming public. While she has been passing her weekly random drug tests, Lohan has been taking "Nexium, Zoloft, Trazadone, Adderall, and sometimes Dilaidid (sic) for dental pain," according to a Probation Department report made public last week, for "for as long as she can remember."
"If Lindsay is tested only for street drugs, there's a giant legal loophole in the court's monitoring of her," says Lisa Bloom, the attorney for the actress's father Michael Lohan.
The family patriarch sent a letter to the court on July 9 asking that Lindsay's prescription drugs to be "disallowed" and included in her drug testing. Michael Lohan, says Bloom, also wants the courts to investigate the doctors giving the drugs to Lindsay. "We have to face reality," Bloom told TheWrap, "that celebrities can get any prescription drugs they want, at any time, in any quantity."
"As a practical and tactical, day to day matter, she needs to get back in front of the trial court," notes McBride, "and fill up the record with affirmative documents indicating that she is, say, going into full-time rehab, taking a much more proactive approach to her demons so that, on appeal, the appellate division sees that she's doing much more than simply grousing about her probation violation and sentence."
First Lindsay Lohan has to get a lawyer … and the clock is definitely ticking.