EXCLUSIVE
Lionsgate issued an $150 million debt offering on Monday through J.P Morgan and Wells Fargo, TheWrap has learned.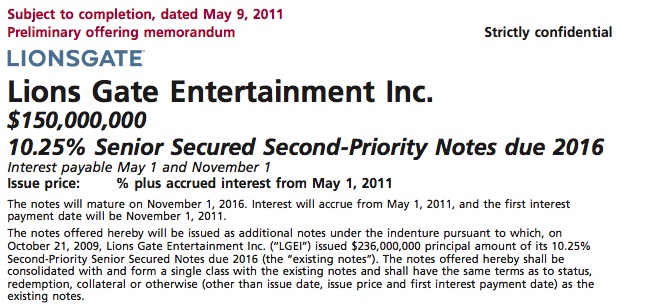 The debt is being offered at 10.25 percent interest, which the company has agreed to pay back by 2016. Interest will begin accruing this month and the first payment is due on November 2011, according to confidential documents obtained by TheWrap.
The money would be used to help pay down outstanding debt under the company's senior secured credit facility and for corporate purposes. In theory, it should give the studio more operational flexibility by repaying its more restrictive bank financing, so that Lionsgate can invest more capital into developing projects or acquisitions.
Also read: Icahn's Lionsgate Bid, Out of Time — and Luck
The documents show that the public company estimates EBITDA between $80 to $100 million for 2011, compared to $128.4 million the previous year. It also projects revenue of between $1.5 to $1.6 billion for the upcoming year.
The company is projecting positive free cash flow of $1 to $10 million at end of fiscal 2011. That compares favorably to negative $75 million in fiscal 2010. The improved cash flow is attributed to lower marketing expenses for films, and strong performance in the company's television business.
The $80 million in profit is higher than the company's previous projection.
The cash injection comes as the studio is on firmer corporate footing. Tensions seem to have cooled between Lionsgate and Carl Icahn, with the corporate raider abandoning, for the moment at least, his hostile take over bid for the company.
Likewise, the studio resolved potentially costly legal dispute with Dish Network stemming from a revenue sharing agreement with Blockbuster, which the satellite company acquired this spring.