Live Nation Entertainment stock was up slightly after Irving Azoff's surprise New Year's Eve announcement that he would step down as its chairman to manage top acts like The Eagles and Steely Dan.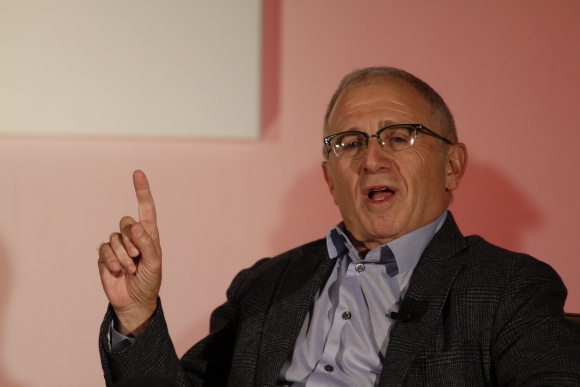 The slight rise came as stocks surged overall on news of a deal to prevent the country from plunging off a fiscal cliff. As of noon ET Wednesday, shares were up 3.22 percent to $9.61.
The stock may also have gotten a boost from Azoff's announcement that he would sell 1.7 million Live Nation shares to Liberty Media Corp., increasing the company's stake to 25.5 percent.
Azoff's announcement had the feel of a classic "news dump," timed to arrive when the financial and music worlds were more focused on holiday revelry than the NASDAQ.
Azoff, meanwhile, was looking ahead to the new year and the one beyond. He may help plan an Eagles tour in 2013 or 2014, according to filings with the Securities and Exchange Commission. He may also help create a television project called "Marshall," according to the documents.
Also read: Irving Azoff on Why He Left Live Nation: Running a Public Company 'Sucks' (Exclusive)
Should the Eagles concert come to fruition over the next two years, Live Nation will get right of first refusal to promote ticket sales for 75 percent of the shows as part of its agreement with Azoff.
His new plans mean Azoff will no longer have to contend with keeping shareholders happy. He told TheWrap upon exiting Live Nation that running a public company "sucks."
"Life at a public company ain't for me," Azoff said. "The board pays you what you're worth, then you get reamed for your compensation. They don't like the way you elect directors, you should be giving options. It's horses—. You can't be an entrepreneur and work in a public company anymore."
Benjamin Mogil, an analyst with Stifel Nicolaus, said Liberty Media's stock purchase counteracted some of the downside from Azoff's departure, but noted that the company would suffer from a talent vacuum. In a note to investors, he rated the stock a "hold."
"We view this departure as incrementally negative," Mogil wrote. "Beyond Mr. Azoff's industry stature, as part of his separation deal he is entitled to manage some key Front Line acts, notably The Eagles, Christina Aguilera, Steely Dan and Van Halen."