It's a new world in Hollywood, where sexually and emotionally liberated female protagonists have taken center stage. A world where "Girls'" Lena Dunham can take her top off with impunity, exposing her ample midsection, where "Bridesmaids'" Maya Rudolph can defecate in the middle of the street.
Though not all filmmakers would, Daryl Wein and Zoe Lister-Jones welcome inclusion of their latest film, "Lola Vs.," in this new movement.
"We're part of a moment that is pretty exciting for women in film and TV, where the portrayals of women in leading roles are shifting to be more unapologetic and honest than in the past," Lister-Jones told TheWrap.
Their movie's main character, Lola, is something of a disaster — all right, she's a total mess. After getting dumped by her fiancé Luke ("The Killing's" Joel Kinnaman), she gorges on smoked salmon, gets kicked out of a strip club, alienates her friends — and sleeps with a few men along the way.
Yet while she struggles mightily with life on her own, she is a strong female lead, one whose actions define the movie, which opens in limited release on June 8.
"She is in a crummy situation but chooses to behave crummily. There aren't that many female character that are so agentive," actress Greta Gerwig, who portrays Lola, told TheWrap. "It's her actions that are propelling things forward, not someone else's. All of that was really appealing to me."
Also read: HBO Renews 'Girls' and 'Veep'
Wein and Lister-Jones, who have been in a six-year relationship, conceived "Lola Vs." a few years ago, and in some ways it is an offshoot of their 2009 breakout, "Breaking Upwards."
That movie explored what happens when a couple decides they are too co-dependent and must experiment with an open relationship. It was based on the filmmaking couple's own experience, one that scarred Lister-Jones.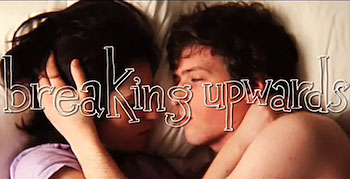 "I called it my year of traumatizing sexual escapades," she said. Those escapades, which she relayed to her mother, inspired "Lola." They also produced a particularly memorable line, "I'm a slut, but I'm a good person!"
Lister-Jones acknowledged that the line "rang true" given her experience — but, she quickly noted, she never yelled it in the street like Lola does.
"Breaking Upwards" and "Lola Vs." are united in their depiction of women struggling with co-dependence. But if Lola the character cannot fathom life without a boy, "Lola" the film is not interested in finding her one.
Lister-Jones and Wein are expressive about their distaste for the standard romantic comedy, in particular the conventional plots and the passive women.
"Everyone has the same perception of what a romantic comedy is; It's a big, stupid, fluffy date movie," Wein said. He struggled to name a single one that inspired him, ultimately settling on "My Best Friend's Wedding."
That attitude lured Gerwig, a blossoming star who earned leading roles in the latest films from Whit Stillman ("Damsels in Distress") and Woody Allen ("From Rome With Love"). In particular, she was drawn to Lola's propensity for making a lot of mistakes — big mistakes, life-altering mistakes.
In that vein, all three — Gerwig, Lister-Jones and Wein — referenced HBO's "Girls" as a project with similar aspirations and inspirations.
Dunham's Hannah does what she wants when she wants and never apologizes. "There are not that many grounded, interesting female-driven stories that are funny," Wein said.
If this desire to remake the portrayal of women in Hollywood sounds strange coming from Wein, he has a secret for you.
"I once was a woman, so it's completely based on my life pre-sex change operation," Wein said, sarcasm dripping onto his leather shoes.
In a separate interview, Lister-Jones described her boyfriend as a feminist. Indeed, Wein's commitment to a new style of female-driven comedy is evident.
Also read: At $15K, 'Breaking Upward' an Unlikely Indie Success
"Women have always been funny and will always be funny," he told TheWrap. "They are just as funny as men; they just have to be utilized well. They have to be written for. That's something we were trying to do with 'Lola.'"
Wein and Lister-Jones have attempted to further disrupt the traditional cinematic treatment of women and romance by also hewing closer to the establishment. This is their first project with a studio, Fox Searchlight, and Lister-Jones said they had commercial viability in mind with this project.
Searchlight is also the studio behind unconventional comedies like "Little Miss Sunshine" and "(500) Days of Summer." If this movie finds a similar audience, it could open up the world for Lister-Jones and Wein, accustomed to shooting in their native New York City.
Where would they go next?
"We're shooting in Dubai," Lister-Jones deadpanned. "Exclusive for TheWrap."
At the very least, the Middle East would provide a brand new challenge in advancing female empowerment.