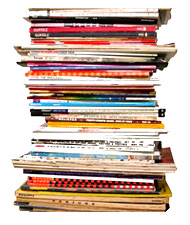 The consumer magazine industry's semi-annual scorecard – the Audit Bureau of Circulations Fas-Fax – was released this morning. And, as expected, overall circulation – like advertising, a victim of the recession -- was down across the industry.
Newsstand circulation was also affected by an industry-wide distribution scuffle that pitted major magazine wholesalers against publishers. The dispute was eventually resolved, but not before rocking the industry's already shaky newsstand distribution system.
Total paid circulation slipped about 2.1 percent during the first half of the year, according to a quick analysis of ABC figures, from 377.7 million copies during the same period last year to 369.8 million.
Single copy sales of magazines slid 12.1 percent during the first half. Just 93 of the 700-plus magazines tracked by ABC managed to increase their newsstand draw. (Among the top 25 titles in terms of paid circulation, only Time did.)
However, paid subscriptions – the source of most magazines' circulation income – actually increased, albeit by half a percentage point.
Among the top 25, though, none increased their subscriptions by more than 10 percent; Cosmopolitan – at 9 percent – came the closest.
Total paid circulation for the top 25 remained relatively steady, with the exception of TV Guide (-10.4 percent), Playboy (-9.2 percent) and National Geographic (-7 percent).
Among newsweeklies, The Economist and Felix Dennis' The Week were able to increase total paid and verified circulation (8.5 and 1.4 percent, respectively) while Time and Newsweek continued to trend downward. U.S. News, which effectively exited the newsweekly category by cutting its frequency, total paid and verified circulation plummet more than 25 percent.
In the fashion magazine category, every major title saw its single copy sales fall during the first half of the year. Only Vogue (up 6.1 percent) was able to increase its total paid circulation by a significant percentage.
Celebrity magazine titles were particularly affected by the recession and ill-timed distribution scandal – with each title losing newsstand sales. Just Us Weekly was able to scratch out an overall paid circ increase – a nice coda for outgoing editor Janice Min.
In the battle for sports magazine supremacy, ESPN The Magazine gained marginally on Sports Illustrated, although both took major hits (20.4 and 24.8 percent, respectively) at the newsstand.
While Playboy struggled, Penthouse continued its titillating march to laddie magazine oblivion, as its overall paid circulation slid some 32.6 percent.
Total Paid Circulation and Percentage Change (Notable Titles)

Reader's Digest (8,158,652) -3.4
National Geographic (4,708,307) -7.0
People (3,615,858) -4.9
Time (3,372,240) 0.5
Sports Illustrated (3,252,298) -10.4
Cosmopolitan (2,907,436) -1.0
Newsweek (2,646,613) -3.3
Playboy (2,453,266) -9.2
O, The Oprah Magazine (2,397,697) 0.1
ESPN The Magazine (2,059,269) 0.6
Martha Stewart Living (2,030,844) -0.3
Us Weekly (1,945,831) 2.1
Entertainment Weekly (1,779,537) -1.9
In Style (1,738,787) -4.9
Rolling Stone (1,476,399) 1.6
U.S. News (1,365,652) -25.3
Vogue (1,298,480) 6.1
Top 10 Single Copy Sales Increase (Percentage Increase)
1. Diabetes Self-Management | 359.2
2. Modern Luxury-Dallas | 222.2
3. Truck, Race, Cycle and Recreation | 184.8
4. The Week | 131.3
5. DC | 120.6
6. Kustoms & Hot Rods | 105.4
7. Houston | 96.4
8. Atlantan | 68.1
9. Sporting News | 59.9
10. Midwest Outdoors | 55.7
Top 10 Subscriptions (Percentage Increase)
1. Truck, Race, Cycle and Recreation | 172.2
2. Long Island Pulse | 154.0
3. CS | 153.9
4. Poder Enterprise | 101.0
5. Kustoms & Hot Rods | 93.2
6. DC | 59.1
7. Bowhunt America | 49.9
8. Global Traveler | 48.3
9. Modern Luxury-Dallas | 47.4
10. Hello! | 45.1