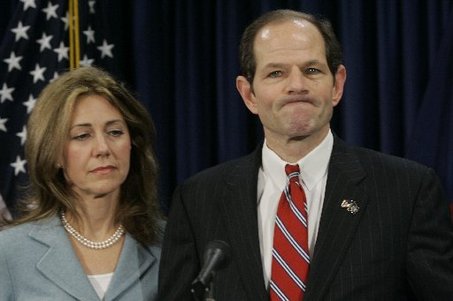 Magnolia Pictures acquired domestic rights to Oscar-winner Alex Gibney's untitled Eliot Spitzer documentary on Monday.
Though it was still a work-in-progress, Gibney's examination of the rise and fall of the former New York governor, attracted a great deal of attention when it screened at the Tribeca Film Festival last month.
It includes interviews with Spitzer and his political foes such as New York State Senator Joseph Bruno and charts his time as a crusading district attorney shining a light on Wall Street corruption, his embattled tenure in the governor's mansion, and the collapse of his political career in the wake of his exposure as the patron of a high-end prostitute ring.
The film was produced by A&E IndieFilms and Wider Film Projects. It will air on the A&E network after it is released theatrically.
Gibney has had a very productive year. His "Casino Jack and the United States of Money," a look at disgraced lobbyist Jack Abramoff, opened this month and he has films about Al-Qaeda and the best-selling book "Freakonomics" due out as well.
Gibney previously directed such acclaimed documentaries as "Enron: The Smartest Guys in the Room" and "Gonzo: The Life and Work of Dr. Hunter S. Thompson."
Terms of the acquisition were not disclosed, but the deal was negotiated by Magnolia Senior Vice President Tom Quinn with John Sloss and Victoria Cook for Cinetic Media, Molly Thompson, VP of A&E IndieFilms, and Todd and Jedd Wider of Wider Film Projects.