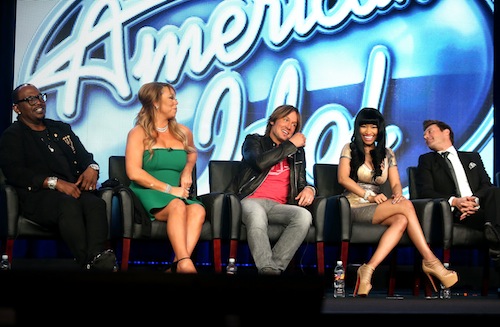 Mariah Carey and Nicki Minaj say they're done feuding. Though they don't necessarily agree on the details of their feud.
"It was kind of one-sided," Carey said Tuesday.
"No, it wasn't," said Minaj.
The two appeared together at a Television Critics Association panel Tuesday, where several questions focused on their much-hyped supposed disagreement. We know: You may be skeptical of whether their feud is even real. Fox president of alternative entertainment Mike Darnell said Tuesday that it was.
Carey and Minaj found themselves on the spot when one clever reporter asked them to say something nice about each other. There was no denying at least a little awkwardness. (Really though, they got off easy: At an earlier TCA panel Tuesday, a reporter said she wished "The Following" stars Kevin Bacon and James Purfefoy kiss on the show. They happily acquiesced.)
Minaj was up first when it came time for compliments.
"That actually is easy. I say nice things about Mariah all the time. I even tell her all the time how much a fan I am of her. She's one of my favorite artists of all time. She's really shaped a generation of singers," Mijan said.
She added that it was kind of "crazy" to be on a panel with Carey, given that so many competitors on the show "aspire to be a Mariah Carey."
"And that was obviously a very sweet thing to say," Carey responded. "Um."
There was some nervous laughter from the assembled critics. Was Carey stalling?
"It was," Carey added, and then delayed her answer a bit more. "And please forgive me, everybody, because I have a little sinus infection that I got from the babies. … We all hate, as a panel, when people make excuses. So I'm gonna do that."
"No, but, Nicki and I worked together very early on in her career and did a song from an album that I had done called 'Memoirs of an Imperfect Angel,'" Carey continued. "It's called 'Up Out My Face,' ironically. Actually it was one of my favorite videos and songs. And I did feel that she was going to go very far and still have that feeling and am grateful for anything nice that she or anyone were to say about me."
Carey also said it was "unfair" to the contestants to focus on judges' feuds. Added Minaj: "We're professionals. You ever have an argument with someone you worked with?"
Carey said in an interview with Barbara Walters that she beefed up her security in the fall after a spat with Minaj.
"It felt like an unsafe work environment," Carey said. "Anytime anybody's reeling threats at somebody, you know, it's not appropriate. I'm a professional. I'm not used to that type of environment."
Walters reported that Carey reportedly said Minaj said off-camera, "If I had a gun, I would shoot that bitch."
Minaj has taken to Twitter to mock the notion that she threatened to shoot Carey.
The "Idol" judges were arranged Tuesday so that the two women didn't sit side by side. Read into that what you will.
Returning judge Randy Jackson sat stage left, with Carey, then new judge Keith Urban, and then Minaj seated down the line.
At one point during the panel, as Carey and Minaj spoke over each other as they disagreed on whether their supposed dispute was one-sided, judge Randy Jackson called to Urban.
"Keith, how are you man?" he said, leaning past Carey. "What's going on?"
Tim Kenneally contributed to this story.