He speaks softly and sometimes strains to hear a question – but at the age of 82, Max von Sydow is still an imposing, even majestic figure. He's tall and upright, full of gravitas but with a twinkle in his eye; after all these years, he is still the face of the knight in "The Seventh Seal," and Jesus in "The Greatest Story Every Told" and Lassefar in "Pelle the Conqueror."
And now he is the Renter in "Extremely Loud & Incredibly Close," Stephen Daldry's film drawn from the Jonathan Safran Foer novel about a young boy who embarks on a hunt across New York City to make sense of the tragedy of 9/11, in which his father was killed.
In the film, von Sydow is a mysterious man who doesn't speak, and who rents a room in the house of the grandmother to young Oskar Schell (Thomas Horn). The two become unlikely allies, in the process revealing some lost bits of family history.
(Photo by Mark Mainz/Getty Images)
While in town for recent screenings of the film, von Sydow sat down with TheWrap to talk about his new role and his long career. At the end of the conversation, I asked him to sign a Blu-ray copy of "The Seventh Seal" for my son; he leafed through the accompanying booklet, and his voice grew soft and wistful.
"This was a long time ago," he said in a whisper, looking at photos of himself and Ingmar Berman in 1957. "A very long time ago."
It's surprising that despite your career, you only have one Oscar nomination.
Awards are important. They are very important, and it's wonderful if you get them. But when I get a project, I don't think, If I do that well, maybe I'll have an award for it. That's not what this is about.
But if you get something, it's great, because then maybe it means that you will reach more people. What is important, I think, is to reach as many people as you can, and do it as well as you can. Reach them, and inspire then, or amuse them, or maybe in some odd moments help them to discover something they hadn't thought of before.
How did you become involved in "Extremely Loud?"
Well, I have a good agent. She called and said, "Stephen Daldry wants you to be in his film." How wonderful, I admire him very much. A very interesting filmmaker. "Oh, and Tom Hanks will be in it, and Sandra Bullock." I had never met Tom Hanks, but I always liked what he did, and I was looking forward to working with him. Then I got the script and realized I had nothing to do with him. And I didn't meet him until the other day in New York.
But nevertheless, I got the script, and my wife and I read it together. We were totally touched by it, moved by the story. And there was no question. I said, "Yes, I have to do this."
Why?
It's a wonderful story about healing after this terrible tragedy. And I think it's a brilliant idea to let the boy sort of invent his own therapy. Which he sticks to fanatically. He is totally convinced that what he's doing will lead to some sort of an answer, some sort of a solution.
What was your experience of 9/11?
We were living in Paris, but at the time we were visiting Sweden. And we were driving somewhere in the countryside, when our son called on the mobile from France and said, "You have to immediately come home, there's a war!"
"No, you're kidding, don't be silly."
"Yes, there's a war! They're attacking America, they're bombing New York!"
"You're not serious."
"Yes, you have to come home!"
And we didn't come home, but we of course went to our hotel, and were stuck with the television the rest of that night. [heavy sigh] I think we were all New Yorkers then, and for a long time. We still are, many of us.
It was a catastrophe like other catastrophes, like the Dresden catastrophe. Which, in the book, you hear that my character has been through. The tragedy there killed his entire family, but for some odd reason he was saved, and that has given him a bad conscience. And so he condemns himself to silence for the rest of his life.
It's an interesting dynamic between your character and the boy – you're driven inward by a tragedy, while he's driven outward.
Yes. It's true. It's true. But the two events were different. Dresden was a tragedy, but it was in a war. So it was sort of, if you understand what I mean, a normal tragedy in a war. But here, 9/11 was an extraordinarily barbaric act of a little group of people. To attack not a country, but kill thousands of people in one blow like that. And for what, and for why? There's no excuse. No excuse. It is, to me, profound emotional stupidity. Or deafness, or blindness. I don't know what to say.
When were you first in New York?
I visited for the first time in October 1963. I had been filming in Los Angeles for nine months, and on the way back I took my family to New York for a week, and then we went by boat to Europe. But since then I've filmed there so many times, and I've been onstage a couple of times also.
New York is a fascinating city. I think it's a very inspiring city, but it's overpowering when you get older. It tires me now. But it's wonderful for young people, very inspiring, and full of surprises and full of ideas.
Is it limiting in certain ways and freeing in others to play a character who doesn't speak?
It's a new way of being that I hadn't done before. It was not, shall I say, more difficult than a normal speaking part. The only difference between the Renter and normal people is that he does not speak verbally, he speaks by his writing. But he speaks.
And it was very inspiring to work with young Thomas, who is really an unusually bright young man. Very, very impressive. I'm very much looking forward to seeing what he's going to do in the future.
When I spoke to him, I wasn't sure if he wants to act again.
No, I haven't really got a clear answer. Maybe he doesn't know. He says wait and see. We shall see. Maybe, maybe not.
For yourself, you keep working pretty steadily.
Not really. [laughs] I really don't want to keep working, in general terms. But every now and then, if something very special shows up, why not?
Are you not driven to act anymore?
Not necessarily. I can live without it.
Was there a time when you couldn't?
I think there was, yes. I think I was a bit intoxicated by it. Now, I'm maybe a little bit more difficult to convince. What is important for me is to find something that I haven't done before.
[pause] My problem is that in my early career I had parts in important films, of a special sort. I worked with the famous Ingmar Bergman, who apparently, probably from the point of view of casting directors, was very religious and very philosophical, etc. etc. Max von Sydow has played Jesus, so he's probably just as religious and philosophical also. So if we need a cleric, ask him. I don't know how many priests and how many bishops I've been offered. I've done a few, but most of the time reluctantly. Of course, there are interesting priests and bishops and saints and all this. But most of it is not that interesting.
And then, okay, I'm a foreigner. I'm not American, I'm not English. So they come and offer me the foreigner. Who is the foreigner in the story? The foreigner is most of the time the villain. And very often he's the Nazi. And then funnily enough, they also ask me to play Jewish refugees. So it's sort of two poles, in a sense.
Did you ever try to change Hollywood's vision of what you could do?
No. It's not up to me. What can I do? I don't think they read interviews with me when I say what I just told you. [laughs] There are casting directors with lots of imagination, but also some with not as much imagination.
I suppose it's a tradeoff worth making, if the way you became pigeonholed was by making a number of movies with Ingmar Bergman. That may have its drawbacks in Hollywood, but it must have been an extraordinary experience artistically.
It was. For me, it was an extraordinary experience, and extraordinarily important for me on so many levels. I worked with Bergman on the stage also, for many years and I don't know how many productions. And I think that I am mainly a theater actor, really. But I haven't done that for quite a few years. I am lazy.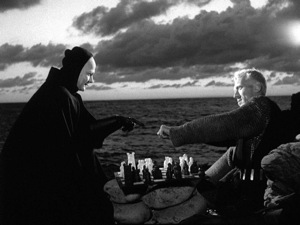 Why do you consider yourself a stage actor, then?
I find it more inspiring. Film acting, if you don't play the lead, you come and you do your scenes in a few days and you act with a couple of colleagues. All the rest of the actors you never see, and you don't even meet many of them. And you don't know what will happen with what you've done. Maybe it will be in the film, maybe it will not. Or maybe the editor will totally change what you have done, put it in another order so you can't even recognize it.
On the stage, you are there from the beginning to the end. It's the entire cast, and the director and the costume designer, and the set decorator, and you do this thing together. And even if you have a small part, you are there all the time. You participate, you listen to what the others are doing. And then, when the production is ready to open, you have the direct contact with the audience, and nobody can come in and re-edit it afterwards.
The direct contact is very inspiring. You don't have that in a movie. Okay, you can go and sit and listen to the audience and watch your film, but it's not the same.
What was your experience like watching "Extremely Loud?"
Even if I miss a few scenes that there was no time for, apparently, I think it's a wonderful film. I really do. I was very moved by it. I think it's a very positive film, with the boy who invents his own healing process.
It's a film of hope, to me. It's not a tragedy. It deals with a tragedy, but the film is not a tragedy.