Maybe Tim Tebow should consider a different line of work if this Denver Broncos quarterback thing doesn't work out, one where he'd get to live in the White House.
Asked which NFL playoff quarterback they would choose for president of the United States in the coming election, more than one in four voters go for Tebow, according to the results of a new Reuters/Ipsos poll of likely voters released on Friday.
Read more: Tim Tebow Gets That Personal Visit From Jesus He's Been Waiting For on 'SNL' video
"For all the support I'm very appreciative, it means a lot," Tebow told Reuters on the sidelines of the pre-game festivities for the Super Bowl in Indianapolis.
Asked if he would consider a political career at some stage he said: "Maybe one day in the future, not right now though."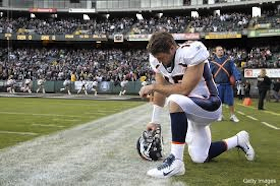 His sensational run taking his team to the NFL Playoffs and his oft-proclaimed religious zeal catapulted him into national prominence. There is even a website dedicated to his touchdown celebration/prayer pose, called "Tebowing."
In the online survey of 2,475 people was conducted earlier this week, Tebow managed to do something in the poll he could not quite manage on the field — beat New England Patriots quarterback Tom Brady.
Brady, who is married to super model Gisele Bundchen, came in third, one percentage point behind New York Giants quarterback Eli Manning, his opponent in Sunday's Super Bowl.
At 24, Tebow is too young by the standards of the U.S. Constitution to be president (you have to be at least 35). He was also born in the Philippines — his parents were American missionaries — and would thus be ineligible. But why let concerns of that nature ruin a good story?
Tebow was the overwhelming first choice of Republicans in the poll, taking 39 percent of their vote, while he was second to Manning among Democrats and third among those identifying themselves as independent.
Tebow was the clear first choice of every age demographic — young and old, except for people aged 45 to 54 who favored Manning by a wide margin.
Tebow's popularity crossed lines as well – he was the favorite of both men and women, as well as both whites and Hispanics.
Overall, the victory clearly went to Tebow, by an eight-point margin even Mitt Romney could envy.
His convincing win in the Reuters/Ipsos poll is little surprise to political professionals.
"He has got a stronger base than any other quarterback. Brady may be the best known but in a Republican primary, Tebow would crush him – religious conservatives, economic conservatives and football fans," Republican strategist and Fox News contributor Frank Luntz told Reuters on the sidelines of the pre-game festivities for the Super Bowl in Indianapolis.