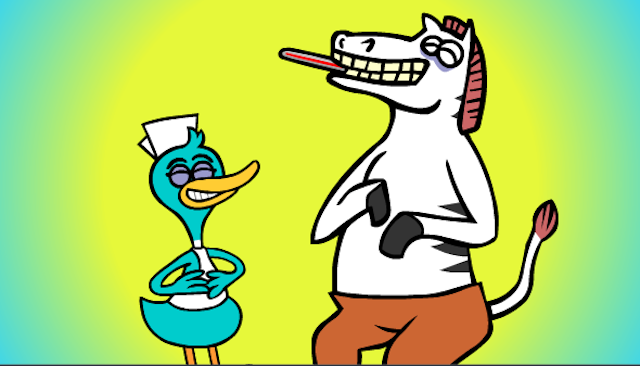 Long before the advent of YouTube, television showrunners Howard Gordon, Rob LaZebnik and Jonathan Collier helped found Icebox, one of the first production companies devoted to web series.
Gordon, a showrunner on "24" who helped develop "Homeland," and other Hollywood heavyweights were able to lure some of the industry's most talented creatives — including Larry David, writers for "South Park" and Mike Reiss, a former "Simpsons" showrunner — to contribute work to Icebox.
Their timing – more than a decade ago – was unfortunate, and the company ran out of money.
But the rapid growth of web video over the past decade has given Icebox a second lease on life.
Fishbowl Worldwide Media, the company started by Hollywood veterans Vin DiBona and Bruce Gersh, has made a deal with Icebox to distribute three of Icebox's old shows on Petsami, Fishbowl's pets-centric YouTube channel.
Those shows are "Midge & Buck," the story of two cats and their owners told from the cats' perspective, "Queer Duck," the tale of a gay duck, and "Poker Night," a show about neighborhood dogs who play a weekly poker game.
Starting Monday, Fishbowl will upload an episode of each show every week until it runs through the archive.
"One reason I love Icebox is they were pioneers of their day and they have this library of content like our library," David Beebe, vice president and general manager of Fishbowl's Digital Studio told TheWrap. Beebe is referencing Fishbowl's huge library of user-generated content, much of which comes from "America's Funniest Home Video," which DiBona created.
"It's fun to partner with them and bring cutting edge, broadcast-quality shows to our Petsami audience on YouTube," Beebe added.
Pets-focused programming is a competitive field, with entrants that include The Pet Collective and eHow Pets.
Though eHow Pets has more subscribers, Beebe and Gersh, president and CEO of parent company Fishbowl Worldwide Media, insist Petsami leads the way thanks to its more than 10 million views. They launched the channel in February.
Also Read: Fishbowl Worldwide Media Launches Pets-Centric YouTube Channel
Icebox was one of several early entrants into web video, a group that included companies like Pop.com and the Digital Entertainment Network, companies with backers like Brian Grazer, Microsoft and NBC. Those companies failed, and though some of Icebox's shows drew as many as five million views, it did too.
Rather than close up shop, Gordon, LaZebnik, Collier and Tal Vigderson, one of the principals, acquired the assets and have continued to operate the company when their day jobs permitted.
"We occasionally have had opportunities to do things and did a feature based on 'Queer Duck' for Paramount," Vigderson told TheWrap. "But we've been waiting for the right opportunity to relaunch."
Also Read: How '24' Vet Howard Gordon Simultaneously Writes Novels and Shows
Why Fishbowl? Because its pet channel was a good fit for these specific shows, as Vigderson noted they are not putting all their eggs in one basket.
Fishbowl hopes this is the first of many deals with Icebox and Icebox hopes that if its shows find an audience, it can jumpstart the company. They have the rights to 23 different shows, but the real mission is to make new content.
"Our ultimate goal is to find a way to make new material," Vigderson told TheWrap. "Everything we do at this stage; I don't anticipate this being a huge revenuer generator. The ultimate goal is to generate interest and build enough of an audience to justify making more."