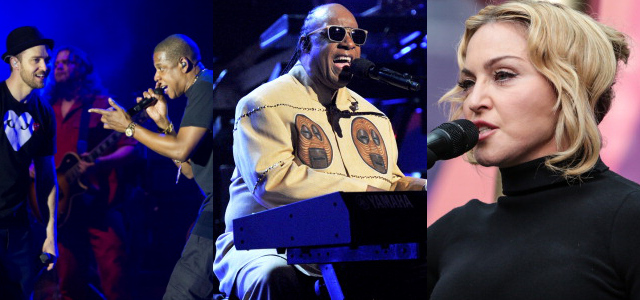 Madonna, Usher, Patti LaBelle, Kanye West, Jay Z, the Rolling Stones, Justin Timberlake, Rihanna, Alicia Keys and Will.i.am were among 20 musical acts said to be joining Stevie Wonder's boycott of the state of Florida, according to a report published on Tuesday by American Urban Radio Network's April Ryan.
But so far, participation by the artists on the list has not been confirmed by any, and is being denied by some to TheWrap.
Ryan (pictured, left) cited individuals close to Wonder's camp as the source who provided the list of artists supporting a change to the Stand Stand Your Ground Law in the wake of the George Zimmerman verdict.
Some of the artists listed have already canceled concerts in the Sunshine State after recent events, Ryan had written.
TheWrap has reached out to the aforementioned artists reps to confirm involvement in the boycott. Some have since returned our calls and emails, others we are still awaiting comment from.
A local news outlet in Florida cites an executive affiliated with the "Legends of the Summer" tour who says the Justin Timberlake and Jay Z concert planned for August 16 at Sun Life stadium will go on.
A representative for the Rolling Stones told Mother Jones that no one associated with the band had knowledge of the boycott list.
A individual with knowledge of the situation told TheWrap, "Somebody is clearly out there using artists names where they should not be, and I think it's awful."
Madonna's reps also told TheWrap, "She has not lent her name to the boycott."
Alicia Keys representation said, "We question the validity of this list since Alicia's name along with many others has appeared erroneously."
Ryan told TheWrap, "The update stands. I am moving on with other stories."
The update Ryan referred to was posted at the bottom of her original story. She said, "I obtained from multiple sources early Monday a list of artists and entertainers who my sources told me had committed to a boycott of Florida following the George Zimmerman acquittal. Since publishing that list I have heard from several representatives of the artists named who say, on behalf of their clients, they are uncomfortable being identified on that list and are seeking additional information."
See video: Stevie Wonder Won't Perform in Florida Until 'Stand Your Ground Law Is Abolished'.
"I decided today that until the Stand Your Ground law is abolished in Florida, I will never perform there again," Wonder announced at a concert earlier this month. "As a matter of fact, wherever I find that law exists, I will not perform in that state or in that part of the world."
Roughly 30 states have some version of the controversial law.