Facebook CEO Mark Zuckerberg's stake in the social network he founded sunk $7.2 billion since its initial public offering as shares in the company sank to an all-time low Friday.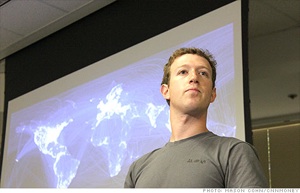 The Silicon Valley titan was worth $19.1 billion when shares in the company's IPO cost $38 each. After selling 30 million shares on the stock's debut day, he was left with 503 million shares.
But by Friday, following Facebook's disappointingly slower second-quarter revenue report, Zuckerberg's stake is now worth $11.98 billion, CNN Money reported.
Also read: Facebook Q2: Revenue Up 32% to $1.18 Billion
Shares of Facebook fell as much as 17 percent to $22.28 early Friday morning, 41 percent below the company's IPO price.
The $7 billion drop is greater than the entire estimated worth of Google chairman Eric Schmidt, whose stake in the search giant values him at $5.5 billion.
Yet, Zuckerberg, with just under $12 billion, is still among the 72 richest people in the world, according to Forbes.