(Updated 11 p.m. PST)
Alexandra Wallace said on Friday that she was going to withdraw from UCLA in the wake of the furor over her YouTube rant about Asian students.
In a statement released by a family spokesman to the Daily Bruin on Friday, she again apologized for her actions, and, after alluding to death threats and harassment of her family, said she had "chosen to no longer attend UCLA" for personal safety reasons.
Interestingly, in the comments section on the site many of Wallace's fellow students expressed regret that she felt the need to withdraw from school, even if she had made a mistake.
Here's the full letter:
In an attempt to produce a humorous YouTube video, I have offended the UCLAcommunity and the entire Asian culture. I am truly sorry for the hurtful words I said and the pain it caused to anyone who watched the video. Especially in the wake of the ongoing disaster in Japan, I would do anything to take back my insensitive words. I could write apology letters all day and night, but I know they wouldn't erase the video from your memory, nor would they act to reverse my inappropriate action.

I made a mistake. My mistake, however, has lead to the harassment of my family, the publishing of my personal information, death threats, and being ostracized from an entire community. Accordingly, for personal safety reasons, I have chosen to no longer attend classes at UCLA.

Alexandra Wallace
Earlier
Alexandra Wallace, the UCLA student whose YouTube rant about Asian students sparked national disgust, apparently planned a series of similar videos and sought domain suggestions for "Asians on their cellphones in the library."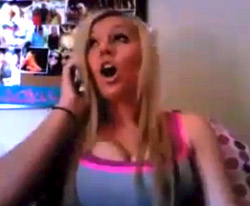 Wallace posted her 2-minute, 52-second diatribe only hours after a 9.0 earthquake rocked Japan and triggered a deadly tsunami.
Meanwhile Friday, a UCLA spokesman told TheWrap that the 20-year-old Wallace, an aspiring bikini model and third-year Political Science student, violated no university rules and will face no disciplinary action.
"What's new is that while the comments in the video are offensive, we have uncovered no facts that lead us to believe that the student code of conduct was violated, and have no intent of pursuing the matter further," Phil Hampton said.
Wallace's original YouTube posting has been removed, but mirror versions have received more than 4 million hits.
Also read: Alexandra Wallace: UCLA's Very Own Gilbert Gottfried
On Monday, she apologized, saying, "Clearly the original video posted by me was inappropriate. I cannot explain what possessed me to approach the subject as I did, and if I could undo it, I would."
But before her apology and soon after she posted the harangue, her father wrote on his Facebook page that "my daughter wants to start a blog."
John Wallace, a retail developer in the Sacramento area, wrote, "She's asking for domain suggestions for 'Asians on their cellphones in the library!' She's shooting videos as I write," the Sacramento Bee reported.
He also posted that his daughter was going to be in the audience of MTV's "Jersey Shore" reunion show.
Editors of the UCLA Daily Bruin have stopped allowing comments on their original story about Wallace.
"Because of the offensive nature of discussion around this article, commenting has been closed," they wrote on their web page.
Many commenters condemned her words but supported her right to utter them.
Hampton said that "we protect free expression zealously — however misguided or hurtful that speech may be, or how contrary that speech may be to our core values of civility and respect for others."
He also said that Wallace reported to the university police department that she had received threats. He said police are investigating.
He also said that "precautions were taken to ensure she could complete her studies and finals in a safe manner."