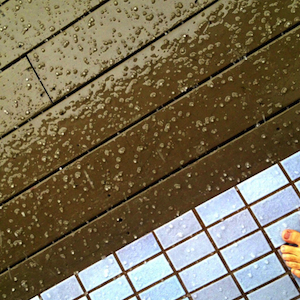 What the hail?
On an otherwise sunny and relatively warm day, a freak hailstorm has broken out, passing over areas of the Valley and West Hollywood.
Residents — including some well-known — have taken to Twitter to marvel at the sight of ice in their backyards.
"HOLY HAIL," Constance Zimmer, one of the stars of "House of Cards," wrote, giving photographic evidence (pictured left).
"Hail is falling in Toluca Lake," Conan O'Brien sidekick Andy Richter wrote with joy. "Yay!"
Adam Shankman, the director of 2007's "Hairspray" and last year's "Rock of Ages" and  producer of the 2010 Oscars, tweeted: "Wait its SERIOUSLY haling now in LA! WTF," the filmmaker exclaimed to his followers. "My yard is covered in ice. WTF!!!"
The icy (and sometimes painful) precipitation is so rare in the Los Angeles area that it's leading a few, like Richter, to bask in the occurrence. Some, however, showed more concern.
"Umm. Okay … its sunny, and haling in LA," Shankman added. "And who is the a-hole that says there's no climate change issues?"
Rashida Jones, of "Parks and Recreation" fame, echoed his sentiment.
"Went from sunny day to straight hailing on Laurel Canyon. Climate change or the end of days?" Jones tweeted. "Either way, let's pretend nothing's weirdYAYYY!"
Weird or whatever? You decide. But don't expect it to last.
The Weather Channel is predicting a high of 58 degrees in the L.A. area on Friday, with a 60 percent chance of rain or thunderstorms in the morning and early afternoon.