Can Tim Tebow, a good Christian boy, make it in Manhattan?
We'll find out, but this much is clear: the deeply religious 24-year-old, just traded by the NFL's Broncos to the New York Jets, will have a tougher time parlaying his choir boy image into Tebowmania and millions of endorsement dollars in the Big Apple than he did in Denver.
If he can win over New York and its famously fierce sports media, however, the young quarterback could see an unprecedented marketing score. Think "Linsanity" — the social media-fueled fascination with the NBA's Jeremy Lin — squared.
Advertising directors and brand experts say that on and off the field Tebow, who is expected to be a backup to Mark Sanchez, faces a rocky transition.
"New York eats its own and it will eat you alive if you fail," Daniel Durbin, director of USC's Annenberg Institute of Sports, Media and Society, told TheWrap. "Tebow either has too much ego or doesn't see what's ahead of him, because New York is not Denver. Denver is a very conservative part of the country with a lot of fundamentalist types who like him and support him primarily because he is an evangelical Christian."
Also read: Tim Tebow Gets That Personal Visit From Jesus He's Been Waiting for ('SNL' Video)
Tebow has appeared in a controversial anti-abortion ad and has been notably circumspect in interviews on the topic of gay rights; his positions on these subjects may not play well among liberal New Yorkers.
Add to that, a habit of dropping to his knee in prayer during games and public statements that he has opted to remain a virgin until marriage and you have a sports star who could be a fish out of water in sophisticated New York City.
The key, experts say, will be for Tebow to remain true to himself. The conservative star — who to this point has remained totally scandal-free — should steer clear of late-nights spent clubbing and Page Six gossip items if he wants to maintain the image that spurred a media frenzy.
Also read: Forget Romney, Obama: Tim Tebow Tops Reuters Poll
"This guy just feels real and authentic," Ed O'Hara, senior partner at SME Branding, told TheWrap. "There's a kind of secret admiration for his audacious religious behavior, even in spite of his limited athletic skills, that just makes people root for him."
Should Tebow become a key cog in a Jets playoff run, analysts say that he could find even more endorsement opportunities available to him then when he was in Denver.
As evidence, they cite Lin, the young New York Knicks star, whose Asian-American background and Harvard pedigree led to overnight stardom and deals with the likes of Volvo.
If Tebow performs well, he will do so in one of the biggest media capitals in the world; a city that also happens be the center of the advertising industry. To this point, Tebow has chosen his endorsement deals carefully, working with Nike and Jockey and a handful of others.
"Tebow can keep doing what he's doing, only he can do it on a bigger screen and bigger canvas, because that is what New York offers," Harry Woods, partner and creative director at the advertising firm Woods Witt Dealy & Sons, told TheWrap. "It is staggering how much money is involved and how pervasive these guys can become when they cross a certain threshold of exposure."
Getting that kind of exposure may be the big stumbling block. Jets general manager Mike Tannenbaum has said that Sanchez will remain the Jets starting quarterback even with Tebow in the fold. The team plans to hand Tebow a package of plays each weeks and hopes he will become a leader in a locker room that imploded after a series of losses last season.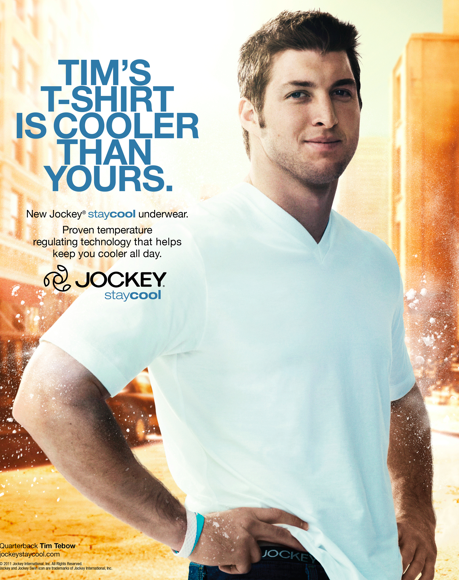 That's a far different role than in Denver, where Tebow became the starting quarterback last year after starter Kyle Orton stumbled. Leading his team to a series of come-from-behind victories and an unlikely playoff run further enhanced his profile.
Also read: ESPN Fires, Suspends Employees Over Racist Jeremy Lin Remarks
Those wins combined with Tebow's evangelical sizzle were a bonanza for CBS Sports, which broadcasts both the Broncos and Jets games.
Last winter, more than 53 million people tuned in to watch Tebow lead the Broncos to an overtime victory against the Pittsburgh Steelers, representing a 24-year high-water mark for a wild-card playoff game.
Serving in a reduced role in New York could set the Tebow brand back a few paces and it will certainly do little to goose viewership for Jets games.
"He's probably going to be the most popular backup quarterback in the history of the NFL, but I'm not sure at the end of the day it's going to have that drastic effect on the ratings, because he is still a backup," Adam Schwartz, associate director of sports media with Horizon Media, told TheWrap.
Tebow has shown he can connect with fans without playing much, however. His overt evangelism, combined with national titles and a Heisman Trophy at the University of Florida, made him a fan favorite before he came into the league. Even in his rookie season two years ago, when he rarely saw the field until late in the season, his jersey was the NFL's biggest seller.
It's not just limited playing time that could obscure Tebow. The notoriously dysfunctional Jets and their attention-grabbing coach Rex Ryan are forever making headlines of their own, meaning that there could be less coverage to go around for the more mild-mannered Tebow. This is after all, a team that literally turned its training camp into a reality show thanks to the HBO series "Hard Knocks."
"It's brand soup," O'Hara told TheWrap. "It's not just Tebow, you've got New York, you've got Rex Ryan, you've got the NFL. It's a circus."
And Tebow now finds himself in the center ring.