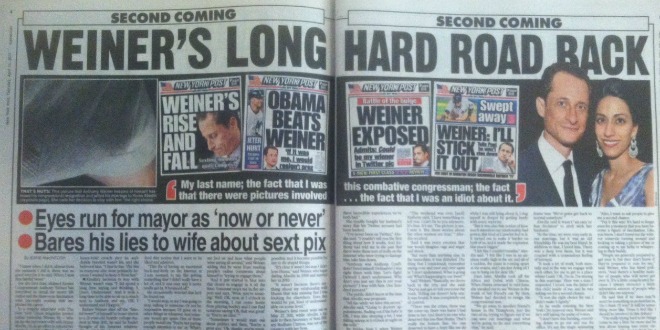 Last night was a late one for the New York Post's Department of Weiner Jokes: Word that disgraced former Rep. Anthony Weiner might run for mayor spawned an edition filled with more juvenile double entendres than even a normal issue of the New York Post.
How many penis jokes were there? We can't guarantee an accurate count, because there were a lot. But, let's try:
-Two on the front page. The headline was "Weiner's Second Coming!" with the subhead, "Anthony: Erect me Mr. Mayor"
-Two with the main story: "Second Coming" was the title of the Weiner section, printed across the top of pages five and six, with the headline, "Weiner's Long Hard Road Back." The phrase "second coming" appears three times in all, but we're counting it as one joke.
-One with a sidebar: "Weiner stiff competition for Dem foes."
-Here's where it gets tricky. In some sentences, like this one, we really can't tell if the Post is
trying to be funny: "Women are divided when it comes to Anthony Weiner's plan to rise from the political dead." That could be three jokes, or zero.
Post columnist Andrea Peyser, meanwhile, called Weiner "genitally obsessed," which kind of feels like a case of pot, meet kettle.
The rival New York Daily News went with a newsier approach, accusing Congress of selling out "with soft gun deal." We're pretty sure there was no pun intended. The paper may be stinging from both Kate Upton and Diddy shooting down its front-page story claiming the two are dating.
The New York Times' penis-joke count, meanwhile, clocked in at a disappointing zero.