Demand Media — one of a handful of high-volume, low-cost content producers often maligned by critics as "content farms" – filed plans with the SEC on Wednesday to go public.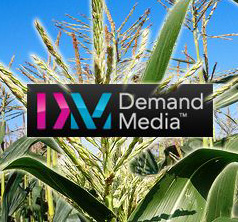 The company is hoping to raise $138 million by selling up to 8.6 million shares at $14-$16 per share (which is – ironically — what it pays per article!) in an IPO that would put the value of Demand at about $1.3 billion.
According to the filing, the company is targeting Jan. 25 for its IPO.
An IPO for Demand had long been rumored. The company — launched in 2006 by Richard Rosenblatt — generated more than $200 million in revenue in 2009, and was given a billion-dollar valuation by its list of blue-chip investors last year.
Demand is clearly trying to capitalize on the industry's interest in the, for better or worse, "farm" model.
Last year, Yahoo recently acquired Associated Content for $100 million. AOL chief Tim Armstrong, who is reportedly an investor in Associated Content, already has his owns content factory in Seed. And Barry Diller is reportedly cooking up something that smells like a content farm at IAC, too.
That an online content factory like Demand could command an IPO with a billion-dollar valuation is a sign of the media times.
Earlier this week, Playboy announced that it had agreed to founder Hugh Hefner's $200 million offer to take the struggling company private.