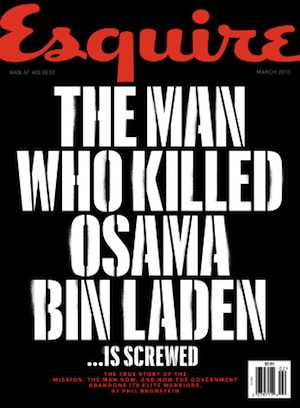 Esquire is defending its story about the Navy SEAL who shot Osama bin Laden after Stars & Stripes said the magazine erroneously reported he could not get health care.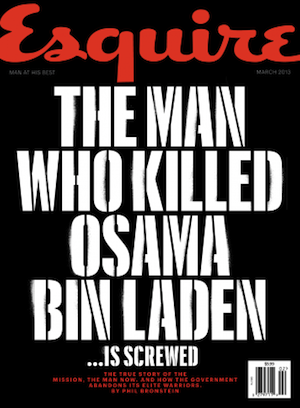 Stars & Stripes, the military-run newspaper, reported on Monday that the magazine appeared to suggest the retired SEAL was denied healthcare, though he is eligible for it through the Department of Veteran Affairs.
But on Tuesday, Esquire responded that Stars & Stripes reporter Megan McCloskey had overreached.
"McCloskey's story is entitled, 'Esquire article wrongly claims SEAL who killed bin Laden is denied healthcare' and it is that headline that contains her first factual error," Esquire said. for nowhere in Bronstein's piece does he write that the Shooter was 'denied' healthcare."
Esquire went on to defend at length what it said were other errors in the Stars & Stripes story.
The issue is hotly contested because it gets to the core of whether the government is properly caring for veterans — including the one who played a key role in bin Laden's death.
But it has also sparked a debate about whether Esquire is guilty of picking and choosing facts for the sake of producing a more interesting story.
The newspaper said the writer of the Esquire piece admitted that he deliberately chose not to report that the the SEAL did not know about his eligibility for healthcare benefits.
When McCloskey interviewed writer Phil Bronstein, the executive chairman of the Center for Investigative Reporting, he told her he didn't include the detail because "that's a different story."
Bronstein said he stood by his story and that the SEAL did not know he was entitled to five years of free healthcare, Stars & Stripes said.
Also read: Navy SEAL Who Killed Bin Laden Speaks Out — And Has Complaints
"No one ever told him that this is available," Bronstein said.
Esquire's article reported that the SEAL — identified only as "The Shooter" — also did not have a pension. But McCloskey wrote that "no servicemember who does less than 20 years gets a pension, unless he has to medically retire."
McCloskey, Esquire, and the Center for Investigative Reporting did not immediately respond to calls for comment from TheWrap on Tuesday.
Bronstein, a former war correspondent, was a 1986 finalist for the Pulitzer Prize. He is also known for his former marriage to Sharon Stone, which included an ill-fated private tour of the Los Angeles zoo in which his foot was attacked by a Komodo dragon.