The New Yorker's probe into the fight between filmmaker Paul Haggis and Scientology and Vice magazine are both up for National Magazine Awards.
Has the American Society of Magazine Editors embraced Hollywood and hipsters?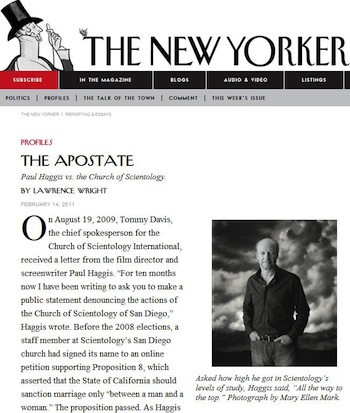 Not exactly. The New Yorker is up for general interest magazine of the year (print division), as are Vice, GQ, New York and the remade Bloomberg Businessweek. Vice is the only one of those mags never nominated before.
Beyond that there is much of the same.
The New Yorker led the charge in reporting, taking two nominations – one for the Scientology piece, "The Apostate," and one for "Getting Bin Laden." The Atlantic, Vanity Fair and Los Angeles were nominated as well.
The late Christopher Hitchens is up for column writing, where he'll posthumously face off with Time's Joel Stein, The Atlantic's James Parker and others.
Two New York magazines were the most-nominated; both the New Yorker and New York nabbed six. Conde Nast was the big winner among publishers, taking 24 noms as compared to 10 for Hearst and seven for Time Inc.
As New York's Kathryn Schulz pointed out on Twitter, perhaps the most traditional aspect of all this was that men dominated. While some women did get nominations, none were in the categories of reporting, feature writing, profiles, essays or columns.
The profile writing category in particular favored men with ESPN, Men's Journal and Sports Illustrated occupying three of the five spots.
Despite all of the usual suspects, the nomination for Vice is a validation of its growing relevance. It has built itself into a multimedia empire, offering a massive amount of video content to go with its blogs, magazines and more. Now it gets to see if it can compete with the big boys in the world of boring old print.
Here's the full list of National Magazine Awards 2012 finalists
GENERAL EXCELLENCE, PRINT
General-Interest Magazines
Honors large-circulation weeklies, biweeklies and general-interest monthlies
Bloomberg Businessweek; GQ; New York; The New Yorker; Vice
Women's Magazines
Honors women's magazines, including health and fitness magazines and family-centric publications
Glamour; More; O, The Oprah Magazine; Real Simple; W
Lifestyle Magazines
Honors food, travel and shelter magazines as well as city and regional publications
Bon Appetit; Country Living; Garden & Gun; House Beautiful; Texas Monthly
Active- and Special-Interest Magazines
Honors magazines serving targeted audiences, including enthusiast titles
The Fader; Field & Stream; Inc.; Men's Health; Popular Mechanics
Thought-Leader Magazines
Honors literary, scholarly and professional publications as well as small-circulation general-interest magazines
The American Scholar; Aperture; IEEE Spectrum; The New Republic; Virginia Quarterly Review
DESIGN
Bloomberg Businessweek; GQ; Interview; New York; Wired
PHOTOGRAPHY
GQ; Interview; National Geographic; Virginia Quarterly Review; Vogue
NEWS AND DOCUMENTARY PHOTOGRAPHY
Harper's Magazine for "Juvenile Injustice," October
Harper's Magazine for "Uncertain Exodus," July
National Geographic for "Too Young to Wed," June
The New York Times Magazine for "From Zero to 104," September 4
TIME for "Birds of Hope," January 17
FEATURE PHOTOGRAPHY
National Geographic for "Taming the Wild," March
The New York Times Magazine for "Touch of Evil," December 11
TIME for "Portraits of Resilience," September 19
Vogue for "Lady Be Good," March
W for "Planet Tilda," August
SINGLE-TOPIC ISSUE
Bloomberg Businessweek for "Steve Jobs," October 10-16
ESPN The Magazine for "NFL Preview: The Vick Issue," September 5
Garden & Gun for "Southern Food," October/November
New York for "The Encyclopedia of 9/11," September 5-12
Wired for "Underworld," February
MAGAZINE SECTION
Bicycling for "Know/How"
Esquire for "Man at His Best"
New York for "Strategist"
Real Simple for "Food"
Wired for "Start"
PERSONAL SERVICE
Glamour for "The Secret That Kills Four Women a Day," June
Good Housekeeping for "Fractured," July
Real Simple for "Your Holiday-Spending Survival Guide," November
Redbook for "Would You Get a 'Mommy Tuck'?" April
San Francisco for "The New School of Fish," February
LEISURE INTERESTS
New York for "The Urbanist's Guide To . . . ," April 25
Outdoor Life for "Sniper School," March
Saveur for "Italian American," December
Texas Monthly for "Home Plates," April
Wired for "The Wired Travel Optimizer," October
PUBLIC INTEREST
5280 Magazine for "Direct Fail," December
Harper's Magazine for "Tiny Little Laws," February
Marie Claire for "The Big Business of Breast Cancer," October
Men's Health for "The Signature Wound," November
The New Yorker for "The Invisible Army," June 6
REPORTING
The Atlantic for "Our Man in Kandahar," November
Los Angeles for "What Happened to Mitrice Richardson?" September
The New Yorker for "The Apostate," February 14 & 21
The New Yorker for "Getting bin Laden," August 8
Vanity Fair for "Echoes From a Distant Battlefield," December
FEATURE WRITING
Esquire for "Heavenly Father!" October
GQ for "The Man Who Sailed His House," October
The New York Times Magazine for "You Blow My Mind. Hey, Mickey!" June 12
The New Yorker for "A Murder Foretold," April 4
Rolling Stone for "Arms and the Dudes," March 31
PROFILE WRITING
D Magazine for "He Is Anonymous," April
ESPN The Magazine for "Game of Her Life," January 10
Men's Journal for "The Blind Man Who Taught Himself to See," March
Rolling Stone for "Santiago's Brain," December 8
Sports Illustrated for "Dewayne Dedmon's Leap of Faith," November 14
ESSAYS AND CRITICISM
Esquire for "The Loading Dock Manifesto," May
GQ for "Too Much Information," May iPad Edition
New York for "Paper Tigers," May 16
The New Yorker for "The Aquarium," June 13 & 20
Slate for "The Stutterer: How He Makes His Voice Heard," February 22
COLUMNS AND COMMENTARY
The Atlantic for columns by James Parker
Field & Stream for columns by Bill Heavey
Los Angeles for reviews by Steve Erickson
TIME for columns by Joel Stein
Vanity Fair for columns by Christopher Hitchens
FICTION
The Atlantic for "Scars," Summer 2011
McSweeney's Quarterly for "Ambition," April
McSweeney's Quarterly for "The Northeast Kingdom," August
Virginia Quarterly Review for "La Moretta," Fall
Zoetrope: All-Story for "The Hox River Window," Fall