Nearly 19 months after Michael Jackson's death, Dr. Conrad Murray finally will have his day in court as the preliminary hearing in the manslaughter case against him begins in Los Angeles.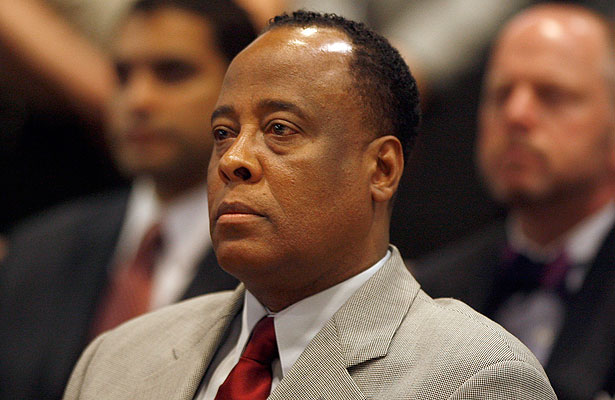 At 9 a.m. Tuesday morning, the physician charged in the "Thriller" superstar's drug overdose will hear prosecutors begin to present their long awaited case against him.
CHECK THEWRAP THROUGHOUT THE DAY FOR UPDATES
Murray, 57, could receive four years in state prison if convicted of negligently administering prescription medications (including the powerful anesthetic propofol) to Jackson at the 50-year-old singer's rented West Los Angeles home June 25, 2009. The death was rule a homicide by the L.A. County Coroner's office and Murray has been free on $75,000 bond for nearly a year.
With members of the Jackson family expected in attendance, the preliminary hearing, held before Superior Court Judge Michael Pastor in downtown LA, will determine whether Murray should stand trial for a single felony count of involuntary manslaughter. The hearing is expected to last about two weeks. The proceedings, which resemble an informal criminal trial without a jury, will serve as a "pilot" preview of the case-in-chief, should the case go to trial later this year.
Both the prosecution, led by Deputy District Attorney David Walgren, and Murray's defense lawyers, Michael Flanagan of Glendale, and Ed Chernoff of Houston, Texas, will present radically different versions of the events leading to Jackson's death; both sides will offer sworn testimony from witnesses, though it's unknown whether Dr. Murray will testify on his own behalf.
Walgren is a tenacious prosecutor from the Major Crimes Division who appears personally aggrieved by the crimes he tries, and is probably still smarting from the collapse of his last high-profile case. Last year Walgren had sought to put film director Roman Polanski on trial for the 33-year-old charges stemming from a sexual assault on a minor – only to have Swiss authorities turn down a U.S. Attorney General's request to extradite Polanski, effectively killing the case.
A trial against Murray is fraught with danger for D.A. Steve Cooley's office, whose spotty win-loss record in the Polanski and other celebrity prosecutions took some of the steam out of Cooley's failed 2010 bid to replace Jerry Brown as state attorney general. It is generally considered extremely difficult to win criminal negligence cases against doctors, whose professional judgments juries tend not to second-guess – in fact, it's by no means a foregone conclusion that Judge Pastor will order the case to trial.
It seems like an eternity since Jackson was pronounced dead at the UCLA Medical Center in late June 2009, but in that time several other Jackson doctors were exonerated of involvement by police investigators, before they leveled the homicide charge against Murray, who was Jackson's personal doctor and the last physician to be with him at Jackson's home.
Nor, during this period, did the mainstream media and celebrity press remain idle, trumpeting salacious stories about Murray that have turned the Grenada-born cardiologist into piñata for Jackson fans.
Finally, a Michael Jackson civil-suit industry has virtually taken over the nearby Stanley Mosk Courthouse, as a conga line of Jackson family members, creditors, vendors and alleged mistresses and wives test their luck to win a chunk of what's left of Jackson's estate.
While the civil suits garner scant public interest, a trial of the King of Pop's doctor might attract fans whose numbers could dwarf the small army that encamped outside the Santa Maria courthouse during Jackson's 2005 trial on child molestation charges.
The King of Pop is dead, but the show has just begun.