Time magazine beat out Esquire, New York, The New Yorker and Popular Mechanics on Thursday night to be named "Magazine of the Year" at the National Magazine Awards.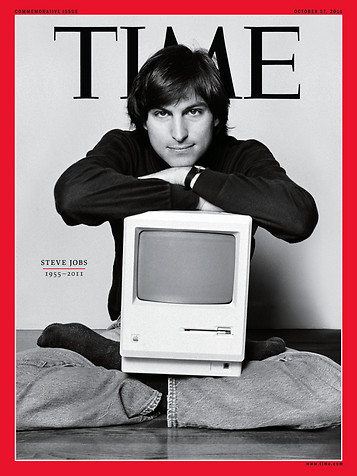 The news weekly was honored for its coverage of the raid on Osama bin Laden's compound, the death of Apple founder Steve Jobs and its "Person of the Year" issue, as well as for its website.
The ceremony in New York City was organized by the American Society of Magazine Editors and Columbia's Graduate School of Journalism.
Also read: Christopher Hitchens: A Salute to Intellectual Honesty
The awards recognized the death in December of one of the magazine industry's foremost practitioners, Christopher Hitchens. The English journalist won the columns and commentary award for a series of pieces he penned in Vanity Fair on religion, the political situation in Pakistan and his battle with terminal cancer.
One winner received his statue for a penetrating look at one of the world's most controversial religions. New Yorker contributor Lawrence Wright was honored for his article "The Apostate," which chronicled "Crash" director Paul Haggis' split from the Church of Scientology.
The 10-year anniversary of 9/11 did not go unrecognized at the evening's ceremonies. New York magazine's "The Encyclopedia of 9/11," which looked at the lives and city impacted by the terrorist attack, received an award for single topic issue, which recognizes a comprehensive examination of one subject.
Though Oprah Winfrey's OWN network has struggled with low ratings, the talk queen was recognized for her print accomplishments. Winfrey's O, The Oprah Magazine received an award for general excellence in the women's magazine category.
New York magazine received three awards in all, the night's highest total, while the New Yorker was second with two awards.
Here's the full list of winners:
MAGAZINE OF THE YEAR
Honors the achievement of editorial excellence both in print and on digital platforms
TIME
Rick Stengel, Managing Editor
Catherine Sharick, Managing Editor, TIME.com May 20, October 17 and December 26/January 2, 2012, Print Issues
TIME.com
Weekly iPad App
GENERAL EXCELLENCE – Active- and Special Interest Magazines
Honors magazines serving targeted readerships
Inc.
Jane Berentson, Editor
February, November and December 2011/January 2012 Issues
GENERAL EXCELLENCE – General-Interest Magazines
Honors large-circulation weeklies, biweeklies and general-interest monthlies
Bloomberg Businessweek
Josh Tyrangiel, Editor
October 10-16, October 31-November 6 and November 14-20 Issues
GENERAL EXCELLENCE – Lifestyle Magazines
Honors city and regional publications as well as food, travel and shelter magazines
House Beautiful
Newell Turner, Editor in Chief
March, June and July/August Issues
GENERAL EXCELLENCE – Thought-Leader Magazines
Honors small-circulation general-interest magazines as well as literary, scholarly and professional publications
IEEE Spectrum
Susan Hassler, Editor in Chief
September, October and November Issues
GENERAL EXCELLENCE – Women's Magazines
Honors health, fitness and parenting publications as well as fashion, service and lifestyle magazines
O, The Oprah Magazine
Oprah Winfrey, Founder and Editorial Director
Susan Casey, Editor in Chief
April, May and November Issues
COLUMNS AND COMMENTARY
Honors political and social commentary; news analysis; and reviews and criticism
Vanity Fair
Graydon Carter, Editor
Three columns by Christopher Hitchens, Contributing Editor: "When the King Saved God," May; "Unspoken Truths," June; and "From Abbottobad to Worse," July
DESIGN
Honors overall excellence in magazine design
GQ
Jim Nelson, Editor in Chief
Fred Woodward, Design Director
May, August and October Issues
ESSAYS AND CRITICISM
Honors long-form journalism on topics ranging from the personal to the political
New York
Adam Moss, Editor in Chief
"Paper Tigers," by Wesley Yang, Contributing Editor
May 16
FEATURE PHOTOGRAPHY
Honors the use of original photography in a feature story, photo essay or photo portfolio
The New York Times Magazine
Hugo Lindgren, Editor in Chief
"Vamps, Crooks & Killers," photographs by Alex Prager; introduction by A.O. Scott
December 11
FEATURE WRITING
Honors original, stylish storytelling
Esquire
David Granger, Editor in Chief
"Joplin!" by Luke Dittrich, Contributing Editor
October
FICTION
Honors the publication of fiction in magazines
Zoetrope: All-Story
Michael Ray, Editor
"The Hox River Window," by Karen Russell
Fall
LEISURE INTERESTS
Honors coverage of fashion and beauty; travel; decorating and gardening; food; fitness and active sports; cars and boats; and hobbies and crafts
Saveur
James Oseland, Editor in Chief
"Italian America," by John Mariani, Lou Di Palo, Marne Setton, Rina Oh, Greg Ferro, Jane and Michael Stern, James Oseland, Dana Bowen, Frank Castronovo and Frank Falcinelli
December
MAGAZINE SECTION
Honors the editorial direction of a clearly branded front- or back-of-the-book department or section
New York
Adam Moss, Editor in Chief
"Strategist"
July 11, October 10 and November 28
NEWS AND DOCUMENTARY PHOTOGRAPHY
Honors photojournalism and photography that documents news events or news-related subjects
Harper's Magazine
Ellen Rosenbush, Editor
Stacey Clarkson, Art Director
"Juvenile Injustice," photographs by Richard Ross
October
PERSONAL SERVICE
Honors coverage of health care, personal relationships, parenting, career planning and personal finance
Glamour
Cynthia Leive, Editor in Chief
"The Secret That Kills Four Women a Day," by Liz Brody, Editor at Large
June
PHOTOGRAPHY
Honors overall excellence in magazine photography
Vogue
Anna Wintour, Editor in Chief
Grace Coddington, Creative Director
Raul Martinez, Design Director
March, October and November Issues
PROFILE WRITING
Honors news or feature stories about an individual or a group of closely linked individuals
D Magazine
Tim Rogers, Editor
"He Is Anonymous," by Tim Rogers
April
PUBLIC INTEREST
Honors magazine journalism that illuminates issues of local or national importance
The New Yorker
David Remnick, Editor
"The Invisible Army," by Sarah Stillman
June 6
REPORTING
Honors reporting excellence as exemplified by one article or a series of articles
The New Yorker
David Remnick, Editor
"The Apostate," by Lawrence Wright
February 14 & 21
SINGLE-TOPIC ISSUE
Honors magazines that have devoted an issue to the comprehensive examination of one subject
New York
Adam Moss, Editor in Chief "The Encyclopedia of 9/11" September 5-12