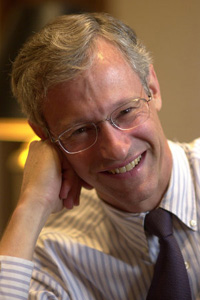 The New York Times named Arthur Brisbane, Jr. as its fourth public editor on Monday. Brisbane, a former editor and publisher at the Kansas City Star – and grandson of Hearst editor Arthur Brisbane – starts his job on August 1. (Like public editors before him, he'll spend about a month orienting himself to the Times, with his first column arriving "in September.")
TheWrap spoke briefly with Brisbane about becoming the paper's "internal affairs cop," navigating the challenges facing the Times and handling that "loaded gun" he's been given.
Your predecessor said he felt like he was "handed the equivalent of a loaded gun" when he was hired. Do you feel that way?
Well I don't know. Clark had the benefit of three years (of looking back). For me, being the public editor is a hypothetical condition. But I appreciate what he is saying. It's a wide-open opportunity. I enter the process with an open mind, and knowing that I need to be thorough. And I suppose if someone is handed a loaded gun, one should aim first.
What did Arthur Sulzberger Jr. say to you?
We just discussed the job, and the mandate the public editor has. Obviously, he is very supportive of the job. And it was a job interview, so I was doing a lot of talking, too.
As an outsider, what's your biggest criticism of the Times?
I don't come into this with any pre-existing criticisms about the Times. The paper plays an enormous role in this country. And it makes mistakes. There are chronic issues. There is no perfect news organization. It wrestles with the same issues that all other newspapers – and media – wrestle with. It has more resources and can spread a wider net and go deeper (than most) but it's not perfect by any means.
What do you expect to be the biggest issue you'll tackle?
It's hard to foretell the future, and to anticipate what issue will spring up. But there are some ongoing issues that you can outline. The challenges facing newspapers as they punch the online time clock (on deadline). There are a lot of (issues) that arise when time is compressed. And there can be problems with individual reporters and editors. And there's always the issue of the coverage being balanced.