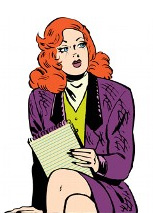 First it was Annie. Then Cathy. Now … Brenda?
Brenda Starr — star of the eponymous comic strip that's chronicled the life of a ginger-haired, grid-skipping reporter for more than seven decades — is about to disappear.
Tribune Media Services announced on Thursday that the strip — which at one time appeared in more than 250 newspapers, now just three dozen — will make its final appearance in print on January 2.
Starr's demise follows on the heels of "Cathy" and "Annie," both of whom met a similar fate earlier this year.
Mary Schmich, who's spent the last 25 years writing the strip, told the Chicago Tribune that "it came to me really clearly that I was done," but added: "I don't think the character is dead. But the comic strip in this form is."
Comics sections – just like book reviews – have been dwindling in American newspapers, the result of slides in advertising and circulation revenues, and rising print costs.
"We, as a syndicate, took a good look at it," Tribune Media Services marketing director
Jan Guszynski told the paper. "In its current form, and given the number of newspapers it is in, we chose not to go forward."