Key Senators on Tuesday said that they are fed up with programming blackouts and the steadily rising rates on cable and satellite TV services.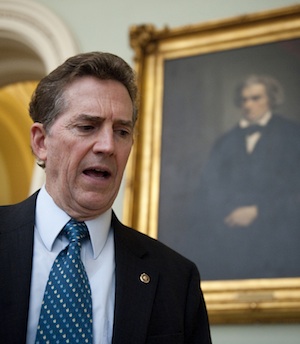 But at a hearing before the Senate Commerce Committee about the Cable Television and Consumer Protection Act of 1992, lawmakers also made clear that there is no bi-partisan consensus on how to address their concerns.
During "The Cable Act at 20" session, Sen. Jim DeMint, R-S.C. (pictured left), said he believes that key provisions in the legislation should be scrapped, with the government getting out of the way of the marketplace. But Sen. John Kerry, D-Mass., chairman of the Senate Communications, Technology and the Internet Subcommittee, defended central provisions of the act and contended that DeMint's proposed legislation could put many broadcasters out of business.
Sen. Jay Rockefeller, D-W. Va., the Senate Commerce Committee's chairman, took the side of pay-TV subscribers who lose access to programming networks in disputes between broadcasters and pay TV operators. He suggested that consumers get refunds when they lose "channels in these corporate disputes" and knocked cable providers for repeatedly raising subscription costs.
"Rates continue to go faster than inflation, year in, year out," Rockefeller added. "They are tired of it; I am tired of it."
Also read: Broadcasters to FCC: Don't Let Cable Systems Drop Local Must-Carry Signals
During the session, Kerry shared Rockefeller's concern for consumers and recommended that pay TV customers be guaranteed access to live programming during retransmission disputes between broadcasters and pay TV distributors.
"We don't want to see the pulling of signals repeatedly used as the common tool for arriving at a resolution between distributors and broadcasters," Kerry said. "It simply isn't fair to consumers who get trapped."
"I would hope the industry would really step up here and construct an alternative to the disruption of service during negotiations," Kerry (pictured below right) added.
DeMint argued that his measure — which would eliminate the right of broadcasters to negotiate programming retransmission fees with pay TV distributors — was the way to go.
Among the key provisions in the Cable Act is retransmission consent, which grants broadcasters the right to try to require cable and satellite TV operators to pay broadcasters for retransmitting broadcast signals.
Impasses over compensation for programming carriage rights have at times compelled broadcasters to pull their programming from pay TV services, and that recurring issue was a hot topic during the hearing.
Also read: FCC Chairman Proposes Eliminating Viewability Rule
In addition to striking the Cable Act's must-carry guidelines,. DeMint's bill would eliminate the compulsory copyright licenses that currently give cable and satellite operators the right to retransmit local broadcast signals without having to compensate the owners of the copyrights for the programs.
DeMint wants lawmakers to eliminate both retransmission consent and the compulsory copyright licenses at the same time.
"To modify or repeal retransmission consent while leaving the compulsory copyright licenses in place … would produce a totally unwarranted windfall for cable and satellite operators," said Preston Padden, a former Walt Disney Co. executive who is now an adjunct professor at the University of Colorado law school, during the hearing.
But broadcasters at the hearing said that eliminating the compulsory copyright licenses would result in additional programming blackouts.
"Removing the compulsory copyright license . . . would exponentially increase the number of rights holders that need to grant permission before a station's programming is carried by a cable or satellite company, thereby certainly increasing the likelihood of consumer disruptions," said Gordon Smith, president and CEO of the National Association of Broadcasters, during the hearing.
"Introducing even more claimants into an already challenging negotiating environment may lead to more disputes, not fewer, will be a lawyer's paradise, and is unlikely to yield any relief to consumer pocketbooks," added Martin Franks, CBS executive vice president, during the hearing.
Also read: FCC Decides in Favor of Tennis Channel in Discrimination Case Against Comcast
Also at the hearing, Melinda Witman, Time Warner Cable executive vice president, said that retransmission consent — which TWC opposes — lets broadcasters force pay TV distributors to purchase bundles of cable networks, even when there is little or no demand for the services, resulting in "bloated packages and higher costs for consumers.
In addition, she said that in 1992, more than 53% of national cable networks were owned by cable operators, but that now cable operators own only 14% of the cable networks while the Big 4 TV broadcasters own 60% of the top 50 cable nets.
She also said that nearly 60% of TWC's programming costs are for broadcast stations, adding up to more than $2 billion a year.
"There's no doubt that the biggest issue facing video customers of multichannel operators today is skyrocketing programming costs," Witmer said.
Among the fixes proposed by Colleen Abdoulah, chairwoman and CEO of WOW! Internet, Cable & Phone, at the hearing were: prohibiting separately owned broadcasters in the same markets from coordinating retransmission consent negotiations; requiring arbitration of negotiating impasses; and mandating continued carriage of broadcast programming during negotiating impasses "in order to stop consumers from being held hostage by blackouts."