Where in the world is Julian Assange?
That's what the international law enforcement and media communities are asking, a day after Interpol put an A.P.B. out on the WikiLeaks founder.
A spokesman for WikiLeaks told Reuters that Assange "had received assassination threats" and therefore been advised "to remain out of the public eye."
The New York Daily News caused a mild commotion in New York late Wednesday, tweeting that Assange had been spotted "bar hopping" in Lower Manhattan. (See screengrab below.)
Not only that, the international man of mystery — with his trademark golden mane — was sporting "a shaved head."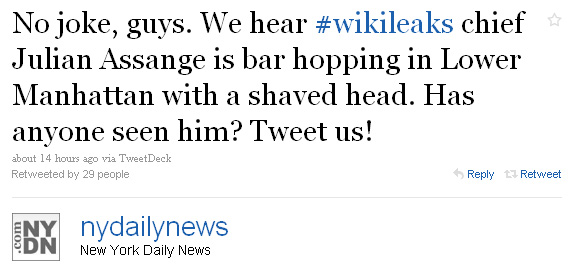 The Independent newspaper, though, claimed Assange "had arrived in Britain in October, and had given police his contact details" and reported that British police know where Assange is staying. The paper said Assange is "believed to be in southeast England."
This comes on the heels of Ecuador's president retracting an offer made by the country's deputy foreign minister to give the 39-year-old Assange — an Australian citizen — safe haven there.
Late Sunday, Interpol issued a "Red Notice" for the arrest of WikiLeaks founder Julian Assange in connection with a sex crime investigation in Sweden.
The notice from the Lyon, France-based international police organization came less than a week after Assange coordinated the site's latest leak — over 250,000 secret American diplomatic cables — and ahead of a planned WikiFlood of thousands of documents from a U.S. bank. (Indeed, the global banking community is bracing for Assange's next planned leak — "hundreds of thousands of documents," thought to be Bank of America, which he plans to release early next year.)
The whole story is like "The International" meets "The Fugitive" meets "Bourne Identity" and "Green Zone," with a dash of "Girl Gone Wild: Stockholm" and "Where's Waldo?"
So go grab some popcorn — this movie's just started!