What had been a welcomed week out of the headlines for beleaguered Yahoo took a sharp turn late Friday, as a memo to the company's employees from co-founders Jerry Yang and Dan Filo strongly hinted that Yahoo might sell itself.
The somewhat prolix message, co-signed by much-critiqued board chairman Roy Bostock, bemoaned the "external swirl" around the company. Yahoo veterans had to wait five paragraphs before reading that advisors Allen & Company are "fielding inquiries from multiple parties that have already expressed interest in a number of potential options."
The memo's vagueness seemed to enforce the notion that a sale is near, though the missive warned against "rumor and speculation, also cautioning, "While we will move with a sense of urgency, this process will take time. Months, not weeks."
Also read: Who to Run Yahoo? Strong Candidates Abound, But First — a Vision, Please
Shortly thereafter, acting CEO Tim Morse sent out a second memo, aiming to reassure employees that the company is not "in limbo" — creating perhaps more confusion.
Floating a memo that would inevitably leak would seem to be the company's response to a flood of well, rumor and speculation that the board of directors cannot long withstand the mounting criticism from investors of all levels.
No investor is more of a threat than hedge-fund powerhouse Daniel Loeb, who has recently acquired 5.2 percent of Yahoo's stock. Loeb has gone after companies he thinks are mis-managed before, but the level of vitriol — and cash — he's throwing at the Yahoo board shows that he's deadly earnest this time.
Though Loeb (right) has declined to be interviewed on the subject, we can be sure that at this moment he's scrutinizing not just the leaked memo but other deal news that broke Thursday night.
At first glance, market observers weren't sure how to parse the news that the red-hot private-equity firm Silver Lake Partners was leading a group investing $1.6 billion in Alibaba, the Asian online sales giant (value: $32 billion) that's 43 percent owned by Yahoo.
A fascinating sidelight that emerged last week and may well play into the memo revelation: Silver Lake, which manages about $14 billion in assets and recently scored big bucks with its prescient investment in Skype (raking $5 billion in profit when Microsoft bought Skype in May), has been bruited as a potential leader in an acquisition of Yahoo.
Also read: Carol Bartz Resigns From Yahoo Board; Next Target, Chairman Bostock?
That kind of acqusition talk began as murmurs in recent months, and along with a belief that the Asian assets (including Yahoo Japan) will grow ever stronger, led S&P Capital IQ Internet Equity Analyst Scott Kessler to upgrade Yahoo to a `buy' rating in July, with a 12-month target price of $17.
Both that rumored deal and a fuller sense of how the Alibaba pact will factor into Yahoo's near future awaits a few more turns in the road.
The prevailing Wall Street wisdom is that Yahoo needs to shed Alibaba to make its domestic business a more clear-cut and affordable investment for some opportunistic purchaser like Silver Lake. (Yahoo is presently valued at around $19 billion.)
If Loeb has his way, when crunch time for such a deal arrives, he'll have managed to install some of his preferred operatives on the Yahoo board.
"Dan Loeb probably represents the most formidable challenge the company has faced yet," said Joshua Brown, VP at Fusion Analytics and author of The Reformed Broker blog. "The company is fending off Loeb by opening its books to potential suitors; Yahoo is basically a web traffic play at this point with a competitive search business. But it is a wasting asset, gradually losing ground to Facebook/Google with every passing month, so the sooner they do something the better.
"Loeb is pretty tenacious and not one to split at the first sign of management intransigence," Brown added. "He is also well known for his sharp tongue — so buckle up."
It was eight days ago that Loeb — having tried to jawbone Yahoo co-founder Jerry Yang into using his clout to dump board chairman Bostock — unloaded verbally on his quarry. He informed the audience at a Delivering Alpha conference in New York that "no one wants to work with these clowns on the [Yahoo] board."
He added, "Yahoo had one of the most horrendous management teams" that he'd seen in 16 years in the game, while concluding that Yahoo "has had the same crappy interface and the same stupid logo" since 2004.
Other than that, presumably everything's hunky-dory.
The prelude to Loeb's board maneuvers was, of course, the unceremonious Sept. 5 ouster of Carol Bartz by the board. Within a week of her firing, Loeb, her longtime critic, announced that his fund had acquired an intiial 5.15 percent stake in Yahoo, and called for a board revamp.
Profiled in New York magazine as one of the marketplace's top "hedgies," Loeb founded his $8 billion Third Point fund in 1995 "with a focus on activist investing." The New York-based firm has a venture capital arm in Silicon Valley — in fact, it's in Sunnyvale, where Yahoo makes its corporate home.
Loeb is, of course, not the first Wall Streeter to go after Yahoo. He was preceded most notoriously by Carl Icahn, whose efforts peaked with a rather messy proxy fight in 2008, delivering him three board seats he eventually abandoned. More recently, another hedge funder, Greenlight Capital's David Einhorn, similarly hectored Yahoo's management as he watched the shares he'd bought in the second quarter of this year at $16.93 apiece start to slide.
A turning point for Einhorn came when Yahoo took a hit in what investors saw as a crucial plank for the Asian side of its business.
Bartz got a nasty surprise most thought she should have seen coming when Yahoo's key Chinese partner, Alibaba, in the person of alienated CEO Jack Ma, transferred ownship of online payments company AliPay to a separate company he controls.
The subsequent recriminations triggered the memorable phrase, "This is not what we signed up for" from Einhorn in a letter to his clients as Greenlight sold off its Yahoo shares before real damage could occur. (The July settlement between Yahoo and Ma quieted the rancor but left the aforementioned tax questions that are hindering a sale of the Asian company.)
Loeb, having taken a fairly formidable stake in Yahoo, won't go so quietly. Known for his finger-pointing, sometimes wrathful and sarcastic missives that accompany Third Point's SEC filings, he has named his key targets on the Yahoo board — Bostock, Art Kern, VJ Joshi and Susan James — and insisted they should resign. He has not suggested Yang leave the board, nor is he likely to given the co-founder's seeming readiness to take the reins back a bit.
With Bartz having vacated her board seat, Loeb has a shot at a five-person, 50 percent slate of board members getting installed and giving him a power base to work with.
Loeb has predicted a gradual rise in the share price to over $20, exceeding th estimate by S&P's Kessler. Either way, said Kessler, "We have some time before we get there." He added that Loeb will need that time in order to campaign with other large investors like Capital Research if he's to effect changes on the board.
Outspoken Wall Street observer Eric Jackson believes that Yahoo's problems date largely to the 2003 installation of the weaker members by then-CEO Terry Semel who "was still fairly new to the job and was assembling a board of people who wouldn't rock his boat too much."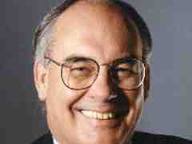 It was shortly after Semel's promotion to chairman, Jackson notes, that Microsoft made a hostile bid for Yahoo: "Bostock (right) led the board that fought off the offer."
The company's share price of around $31 in those days had it valued at around $44 billion, over twice today's figure.
Despite a steady string of unenthusiastic voting tallies among shareholders, the current board members have clung to their posts when annual elections roll around. "This," says Jackson of the incumbents in summing up, "is the most hated board in America."
With Loeb breathing down their necks, and even with a serious jolt of renewed hope of being acquired by some deep-pocketed investors, the board's jeopardy is bound to continue in the coming days and weeks.