The dangling question of succession at Warner Brothers was finally resolved on Wednesday as Time Warner chairman Jeff Bewkes announced that he would renew 66-year-old chairman Barry Meyer's (left) contract until 2013, while president and COO Alan Horn (below right) will be replaced with a trio of top execu
tives, Jeff Robinov, Bruce Rosenblum and Kevin Tsujihara.
The move to retain Meyer had become the latest fallback position by Bewkes, who is seeking to maintain stability at one of Hollywood's most reliably profitable studios while also seeking to bring 21st century leadership to the company.
But the Time-Warner chief has been under severe pressure from Wall Street to indicate a clear leadership path at the top of the movie and television units.
Both Meyer and Horn, 67, had signed to only two-year contracts in the last go-round, leading most to believe that they would be short-timers at the company.
Lately, Bewkes had been urged to focus on continuity, and retaining Meyer allowed him to do that.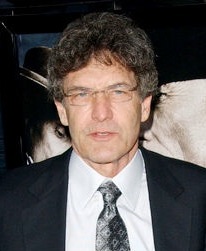 "After a great deal of thought and many discussions with Barry and Alan, we decided that this phased plan was in the best interest of Warner Bros. and its businesses," said Bewkes in a news release.
"Stability and consistency are the hallmarks of Warner Bros., and this plan underscores our commitment to an orderly succession and to promoting from within," said Meyer.
Horn will stay on board as a consultant through 2013.
For months, speculation was that Bewkes would promote one among Rosenblum, Tsujihara or Robinov to a top slot. Promoting all three reduced the risk of losing any one of the three, who currently run distinct and critical parts of the organization.
Bewkes simultaneously promoted Rosenblum, 52, Warner Brothers Television President; Robinov, 51, who heads Warner Brothers Picture Group, and Tsujihara, 45, who run Warner Bros Home Entertainment Group.
How their duties will differ in a single "office of the president" remains to be seen, but Warner Brothers will no longer have a chairman after Meyer's departure. All will report to Meyer beginning next April 1, and they will report to Bewkes after Meyer's departure.
By leaving in April, Horn is stepping down eight months before he was scheduled to leave.
The mixed appointment seeks to bring together a grab bag of business skills into one uber-president. Tsujihara offers plenty of new media experience from his job running TIme Warner's home video business; Robinov carries sports the most creative bona fides from his time running Warner's motion picture group, and Rosenblum, in addition to spearheading the studio's television efforts, is widely considered to have the requisite corporate experience.
There is a risk, however, that making the three top executives co-equal, will only cause further friction when Bewkes ultimately steps down as CEO.
Those younger executives learned only yesterday afternoon about the final succession plan, according to a knowledgeable individual.
Horn and Meyer have successfully run Warner Brothers together for the past 12 years, inheriting the studio from another extraordinarily long-standing partnership between Bob Daly and Terry Semel, who were at the helm of Warner Brothers for two decades.
In both film and television, the pair have churned out a series of hits. In terms of television production, Warner has the most prolific studio operation in prime time, churning everything from "Big Bang Theory" to "Two and a Half Men" to "Vampire Diaries" to "Fringe."
On the feature film front, Time Warner has had a series of blockbuster successes with franchises such as "Batman" and "Harry Potter," but there are question marks ahead. For one, "Potter" will end its multi-billion grossing run after next summer.
Time Warner's shares were up 0.3% at $31.34 in after-hours trading.
Press release below:
NEW YORK, September 22, 2010– Jeff Bewkes, Chairman and CEO, Time Warner Inc., announced leadership changes at Warner Bros. to position the company for succession. As part of the plan, Barry Meyer, Chairman and CEO, and Alan Horn, President and COO, will remain in their current roles for the next six months. Beginning April 1, 2011, Meyer will extend his contract, and Horn will enter into a consultancy agreement, both through December 2013.
In addition, Bewkes also announced the formation of an Office of the President comprised of Jeff Robinov, President, Warner Bros. Pictures Group; Bruce Rosenblum, President, Warner Bros. Television Group; and Kevin Tsujihara, President, Warner Bros. Home Entertainment Group, which will report to Meyer beginning on April 1, 2011. In this capacity, each executive will retain his current responsibilities while becoming more engaged in the operations of the overall company, at a time of convergence of content and distribution platforms throughout the entertainment industry.
"After a great deal of thought and many discussions with Barry and Alan, we decided that this phased plan was in the best interest of Warner Bros. and its businesses," said Bewkes. "Barry and Alan have overseen the most successful years in the company's history, and I am very pleased that they are remaining to guide this transition and to ensure as little disruption to our operations as possible."
Bewkes continued, "The formation of the Office of the President acknowledges the many contributions Jeff, Bruce and Kevin have made and the leadership they continue to show not only in their businesses but in our industry as well. Their vision will take Warner Bros. into the future, and we are very confident in their abilities to chart its strategic direction and define new areas of growth for the company."
"Stability and consistency are the hallmarks of Warner Bros., and this plan underscores our commitment to an orderly succession and to promoting from within," said Meyer. "I have been enormously fortunate to have a partner in Alan Horn, whose integrity and talent are unrivaled, and with whom I have worked side by side for the past 12 years. I am very glad that we will continue to work together and that his consultancy is linked to my future plans at the company."
Horn said, "It's been a privilege and an honor to work at Warner Bros. and to build its motion pictures operations into a global force. From our beloved Harry Potter to all the wonderful films we have going forward, I am very proud of what we've accomplished and happy that Barry and I will continue to provide support to the Studio going forward."