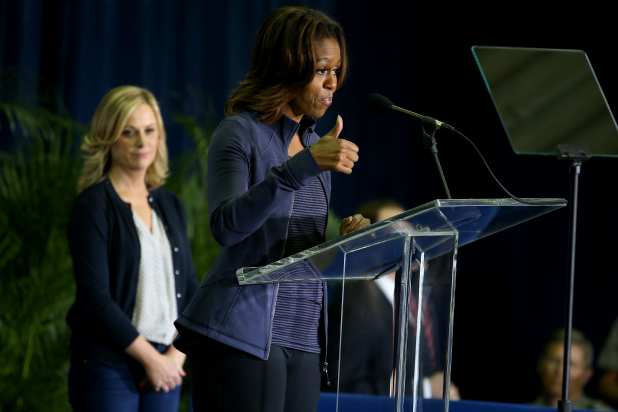 Look out Leslie Knope, Pawnee is attracting some stiff political competition.
First Lady Michelle Obama is set to make a special cameo appearance on the season finale of NBC's "Parks and Recreation."
Obama's scene in the "Moving Up" episode was filmed in late February in Miami, where she celebrated investments in healthier out-of-school programs as part of her "Let's Move" initiative dedicated to solving the challenge of childhood obesity.
Also read: President Obama Makes 'Caddyshack' Joke in Tribute to Harold Ramis
The First Lady's appearance is the next in the tradition of national political figures appearing on the NBC sitcom. Preceding her have been Vice President Joe Biden, Arizona Sen. John McCain, California Sen. Barbara Boxer and former Maine Sen. Olympia Snowe.
The one-hour Season 6 finale will air on Thursday, April 24 at 8 p.m. ET.
"Parks and Recreation" is a production of Deedle-Dee Productions, Fremulon, 3 Arts Entertainment and Universal Television. Greg Daniels, Michael Schur, Howard Klein, David Miner, Morgan Sackett and Dean Holland serve as executive producers.