It's finally the time of year when TV takes big risks.
After a fall that spawned a few ratings successes but no cultural phenomena, midseason may offer some shows that get viewers talking, guessing, and obsessing — like only the best television shows can do.
Also read: Fall TV's Biggest Gambles
Among the gambles: "Smash," a musical drama with complicated characters and Broadway insider plotlines; ABC's "The River" from "Paranormal Activity" director Oren Peli; J.J. Abrams' "Alcatraz", and HBO's "Angry Boys," a show with a regular character in blackface.
Notably, many of the biggest risks are on networks rather than cable, the normal domain of challenging TV. The less networks have to lose, the more risks their willing to take: Which explains why fourth-place NBC is making big plays while first-place CBS is barely changing its approach.
Here's a network-by-network look at where the risks are.
NBC
NBC is taking the biggest gamble by pairing the biggest hit of the 2010-11 season — singing competition "The Voice" – with the new, unproven "Smash" on perhaps the toughest night for any network that isn't CBS.
CBS's comedy block – including the one-two punch of the rejiggered "Two and a Half Men" and "2 Broke Girls," the biggest hit of the season so far – has made its Monday nights all but bulletproof this season.
Also read: Losing in Fall Ratings, NBC Says the Race Is Long
But NBC is gambling on bold counterprogramming, hoping "The Voice" and "Smash" can challenge safe comedy with quality musical drama. "Smash" (starring Katharine McPhee, above) is a show unlike any other on TV, filled with complicated characters, Broadway insider plotlines, and heartfelt songs delivered without camp.
Will it work? There's no precedent. TV's only other scripted musical, "Glee," has more Top 40 numbers and bigger, more cartoonish characters. It also has a younger cast that may be more appealing to younger audiences. NBC's drama, produced by Steven Spielberg among others, is in a place networks rarely find themselves: new territory.
"The Voice" will return in the coveted post-Super Bowl spot on Feb. 5, then air at 8 p.m. Monday, the following night, against CBS's two-hour comedy block. "Smash" will air at 10 p.m. against less intense competition, including "Hawaii 5-0," which has done well without matching the ratings of the sitcoms before it.
Why is NBC making one of its biggest plays in February? Because the fourth-place network is trying to eke out niche victories at times of the year when other networks aren't competing as aggressively. It held fully half of its 2011-12 slate for midseason, more than any other network.
In a season when female-centric comedies have broken out more than any other genre – Fox has found more success with "The New Girl" than with fall gambles "Terra Nova" and "X Factor" – NBC is also adding the Chelsea Handler-inspired "Are You There, Chelsea?" and pairing it on Wednesday nights with "Whitney," which is moving from Thursday. They replace the moderately successful "Up All Night," which is trading places with "Whitney," and the quickly canceled "Free Agents," which NBC paired at the start of the season.
NBC is also rolling out the relentlessly unchallenging "The Firm," which manages to be even more dumbed-down than most John Grisham legal thrillers. It will also air the reality competition "Fashion Star."
The network still has not announced an airdate for its riskiest new show, "Awake" – which, in the opinion of your humble correspondent, has the best pilot of the season. The show's split-reality narrative – a man switches between one world where his son is alive and his wife is dead, and another where his wife is alive and his son is dead – is sure to test viewers. But it's still less complicated than an episode of the "Community" this season in which the world broke up into even more realities.
Maybe that isn't saying much: The little-watched "Community" has been shelved to make room for the return of the much-loved "30 Rock."
Where will "Awake" find itself in the schedule? It will depend on the fate of other hourlong dramas, and when NBC finds itself in need of one.
ABC
Like NBC, third-place ABC is trying to spread its new shows around the calendar.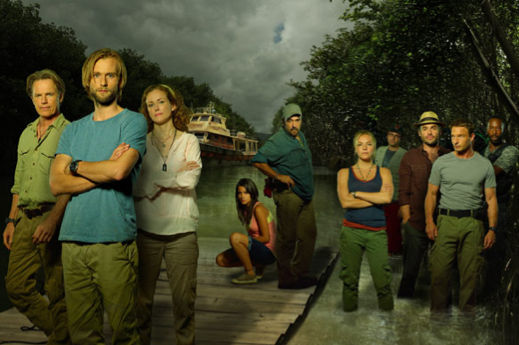 They include at least two bona fide risks, one of which feels like it could pay off. "The River" (right), from "Paranormal Activity" director Oren Peli and, again, Spielberg, goes for the kinds of genuine scares that are all-but-missing from network TV. But ABC may have found the courage to air it thanks to the success of AMC's top-rated and gory "The Walking Dead." "The River" debuts Tuesday, Feb. 7.
The network's other big risk, the critically reviled "Work It," debuted Tuesday night, and is about two manly men who dress as women for their jobs. There's no chance that it might offend people: It already has.
Also read: LGBT Groups Rip 'Work It'
Even before it aired, gay, lesbian, bisexual and transgendered alliances told ABC, in a Variety ad, that it would increase discrimination against transgender people. Its lowbrow, old-as-comedy storyline will do it no favors with highbrow audiences.
But all that matters for ABC at this point is whether audiences will laugh. Or even tune in and watch in horror. The ratings are the same either way.
ABC's other new shows are too close to its existing trademark, female-centric dramas to be considered risks. "GCB," debuting Sunday, March 4, follows the "Desperate Housewives" formula of women with big personalities and soapy predicaments. "Missing," debuting Thursday, March 15, finds movie-turned-TV star Ashley Judd searching for a missing child.
Fox
Fox swung for the fences in the fall with the high-priced dino drama "TerraNova" and the outsized singing show "X Factor," which Simon Cowell said he hoped would unseat "American Idol" as TV's top show. It didn't. "Terra Nova," meanwhile, scored lower ratings than the far less ambitious – and less expensive – scripted shows, including "The New Girl."
Fox, the highest-rated network among 18-49-year-olds, deserves credit for not resting on its laurels. (The most prominent of which is TV's highest-rated show, "Idol," which returns Wednesday, Jan. 18.) But it isn't taking nearly as many risks in midseason.
Of its new shows, the most challenging – and potentially rewarding – is "Alcatraz." The island of the title has always been irresistibly fascinating, and the show has a likeable cast, including "Lost" alum Jorge Garcia.
The show is executive produced by "Lost" alums J.J. Abrams, Jack Bender and Bryan Burk. But, in a potentially troubling sign, "Lost" writer and executive producer Elizabeth Sarnoff stepped down as the "Alcatraz" show runner in November.
"Alcatraz" combines stand-alone, self-contained episodes with a mystery intended to unfold over many episodes, if not the entire series – a formula that has tried audience's patience in the past. Oh, and there's time travel involved.
Viewers will be forgiven if they fear "Alcatraz" will lead them down many dark, mysterious corridors that go nowhere – like "Lost" sometimes did.
Fox is also going the fantastic route with "Touch," which returns "24" star Kiefer Sutherland to the network. The series, from "Heroes" creator Tim Kring, features Sutherland as a man whose son has an amazing ability to recognize patterns and connections hidden in plain sight. Fox is confident enough to offer a special preview airing Monday, Jan. 25, before it officially begins in March.
"The Finder," meanwhile, is a "Bones" spinoff procedural that feels barely connected to its long-running predecessor. Fox will be thrilled if it performs anywhere near as consistently as "Bones." It lands Thursday, Jan. 12.
"Napoleon Dynamite" looks likely to capture all the quirk of the movie that inspired it, given its reunion of the talents originally involved. And no show has proven too weird or geeky for Fox's Animation Domination lineup, which it joins Sunday, Jan. 15.
CBS
CBS, the if-it-ain't-broke network, will try to continue the success of its fall slate (with the exception of the pulled "How to Be a Gentleman"). Its only new show is "¡Rob!" starring former "Saturday Night Live" funnyman Rob Schneider as a man who marries into a large Mexican-American family. Sitcom plots don't come more conventional than this.
CABLE
Showtime's new series, "House of Lies," boasts a great cast (including Don Cheadle and Kristen Bell), and scripted sex galore.
What it doesn't have are characters you can root for. They sometimes feel slicker than the slickest con on "Leverage."
Shows like "The Sopranos" and "Breaking Bad" have proven you don't need to love characters to root for them, even guiltily. But the "House of Lies" characters' glib pursuit of corporate cash – they're in the consulting racket – is harder to root for than Tony Soprano and Walter White's crimes to help their families. (Even when they do wrong for the sake of vengeance, at least they seem to believe in what they're doing.) Whether audiences will root for professional liars remains to be seen. The show premieres Sunday.
HBO's understated horseracing drama "Luck," from "Deadwood" creator David Milch and "Heat" director Michael Mann, feels like another slow-burn special from the network. It's about vengeance, and given its bloodlines (no horse pun intended) that should be enough to keep us watching respectfully – until, out of nowhere, one of those horse's heads ends up under someone's sheets. The show's rollout has been as understated as a rollout can be when it stars Dustin Hoffman and Nick Nolte. It debuted in a special preview last month, and next airs Sunday, Jan. 29.
HBO takes regular risks with comedies that challenge our social hang-ups and brilliantly critique them. Ricky Gervais and Stephen Merchant, who previously teamed on "The Office," try again with "Life's Too Short," starring little person actor Warwick Davis. Normally if you're watching something with a joke about a little person, or a little person thrown into a story for no reason, it's a sign that it was written by idiots who equate "short" with "zany!" But based on their track record, we'll trust Gervais and Merchant to be smart. The show debuts Sunday, Feb. 19.
Midseason's riskiest show by far may be "Summer Heights High" creator Chris Lilley's "Angry
Boys," which debuted on HBO Sunday. It's the first show to regularly feature a lead character in blackface in, oh, about half a century. (The character, rapper S'mouse, is pictured at right.)
Blackface is an automatic Hell no, no matter how edgy or ironic a comedian you claim to be. But something about Lilley's sweet disposition makes it feel absolutely free of malice, like all of his comedy, no matter how biting. And it gets pretty biting.
Why has he gotten so relatively little attention? Possibly because he's Australian and Americans just assume he doesn't understand the U.S.'s long legacy of racist entertainment. Or because not enough people are watching to notice.