(Updates with Romney agreeing to appear on "The View.")
In the same leaked video in which Mitt Romney said 47 percent of Americans were "dependent upon government," he also offered a blunt assessment of the nation's talk show landscape.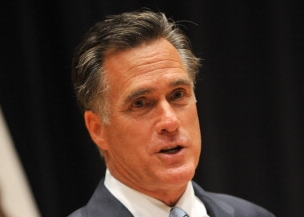 The Republican presidential nominee, who appeared Tuesday on "Live! With Kelly and Michael," hours before President Obama appeared on "The Late Show With David Letterman," was asked on the video why he doesn't do more talk show appearances. The video was recorded in May as Romney spoke with donors, and was released this week by the liberal Mother Jones magazine.
Also read: Watch Keith Olbermann's Special Comment on Romney's Leaked '47 Percent' Video
Romney said Letterman "hates" him for doing "The Tonight Show with Jay Leno" more often than he's done Letterman's show, that "Saturday Night Live" sometimes makes candidates look unpresidential, and that the "sharp-tongued" ladies of "The View" make that show a risky proposition.
"I've been on Letterman a couple of times, I've been on Leno more than a couple of times. And now Letterman hates me because I've been on Leno more than him. They're very jealous of one another, as you know," Romney said.
"I was asked to go on 'Saturday Night Live.' I did not do that in part because you want to show that you're fun and you're a good person, but you also want to be presidential. And 'Saturday Night Live' has the potential of looking slapstick and not presidential," he added.
He also offered his take on "The View," which he has appeared on previously.
"But 'The View' is fine, although 'The View' is high-risk, because of the five women on it, only one [Elisabeth Hasselbeck] is conservative and four are sharp-tongued and not conservative, Whoopi Goldberg in particular. Although last time I was on the show, she said to me, 'You know what? I think I could vote for you.' And I said I must've done something really wrong."
A woman questioning Romney nonetheless recommended that his wife, Ann, appear on "The View" to help remove perceptions of Romney as "a rich guy."
The multimillionaire Romney responded, without elaboration, that he is "poor as a church mouse right now." He also said his campaign was holding back on having his wife do too many appearances because it didn't want people to "get tired of her or start attacking."
He promised that his wife would be more visible in September and October, and was true to his word: She appeared at his side on "Live!" Tuesday.
The comments on the video sparked a discussion on "The View" Wednesday in which Hasselbeck said Romney's campaign had sent a statement saying he would return to the show next month.
The statement, which Hasselbeck read on the air, said the governor "had a wonderful visit" in his previous "View" appearance and that the Romneys would love to again "join the sharp-tongued chatter in October."
Watch the leaked video (Romney's comments on the talk shows begin around the 9:00 mark):