Disney's management musical chairs rolled on Thursday, as two high-ranking executives swapped positions: James Rasulo (below left) was appointed senior executive vice president and chief financial officer, a position that had been held by Tom Staggs.
Staggs (
below right
), a 20-year Disney veteran, assumes Rasulo's role as chairman of Walt Disney Parks and Resorts.
Both will report to Disney CEO Bob Iger and take each other's jobs at the end of the year.
In an earnings call with analysts
later Thursday, Iger hinted that the move is intended to broaden the experience of both men, perhaps grooming one or both of them to become his successor. Rasulo will gain a better understanding of the company overall, while Staggs gains operational experience.
"Having benefited myself from being given new opportunities over the years, in some cases going to places and businesses I have not been in, I think I can particularly appreciate what a real opportunity this is for both of them," Iger said. "I made both Tom and Jay offers that I felt they couldn't refuse."
Rasulo takes control of Disney's worldwide finances, corporate strategy and brand management; Staggs will oversee Disney's vacation businesses, including theme parks, resorts and cruise lines around the globe.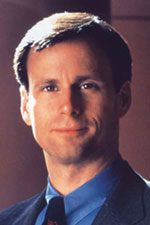 The moves come a day after Walt Disney Studios Chairman Rich Ross aggressively reset his team, naming home entertainment chief Bob Chapek to the newly created post of president of distribution, and adding responsibilities to production president Oren Aviv and Disney Studios President Alan Bergman.
Jim Gallagher, president of marketing, is out; his replacement has not been named.
Another new post — chief technology officer — went to Greg Brandeau, formerly of Pixar.
Mark Zoradi
, who was president of the studios, resigned on Monday following the resignation two months ago of studio chairman
Dick Cook
.
In addition, about 20 executives and employees, including Gallagher, were let go on Wednesday.
PREVIOUS:
Battsek Steps Down as Miramax president