"The Hangover" star Bradley Cooper should probably stock up on aspirin, because has a reason to celebrate tonight: People magazine has crowned the 37-year-old actor the Sexiest Man Alive for 2011.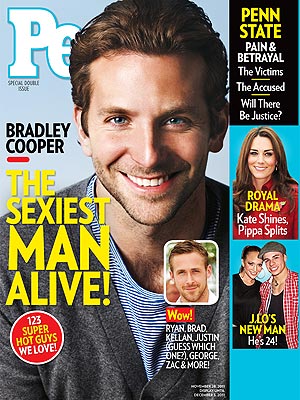 Cooper inherits the cherished title from last year's recipient, Ryan Reynolds.
Also read: Bradley Cooper Drops Out of "Man From U.N.C.L.E." Talks (Exclusive)
The actor put himself in contention for the Humblest Hottie Alive 2011 as well, opining, "I think it's really cool that a guy who doesn't look like a model can have this [title]. Sometimes I can look great, and other times I look horrifying."
As for his initial reaction when he was told of the honor?
"First thing I thought was, 'My mother is going to be so happy."
Also read: Ryan Reynolds + Bradley Cooper = Wise-Cracking Cops
Awww … is this guy a basket full of puppies and rainbows, or what?
Cooper's upcoming projects include the David O. Russell-directed comedy "The Silver Linings Playbook" and the crime drama "The Place Beyond the Pines," co-starring Ryan Gosling.