First in a series on how the economic downturn is affecting the Industry.
The recession officially ended more than two years ago, but for scores of displaced studio executives, character actors, directors and below-the-line workers, the suffering continues.
As the country battles entrenched unemployment, which remains at an alarming 9 percent, TheWrap is taking a hard look at how this problem has impacted the entertainment industry.
"It's the worst it's ever been," Howard Suber, a professor of film who offers a popular class on breaking into the business at UCLA, told TheWrap. "There's an oversupply of creative people … The market is getting smaller and smaller, the films are getting bigger and bigger, but the number of films released are getting smaller."
Also read: WGA's Keyser: There Isn't Enough Interesting Work for Writers
Suber's dire perspective aside, there's good news and bad. The movie industry as a whole has contracted – with theatrical attendance sharply down, home entertainment in a fetal position and studio production on the decline.
Television production, though, is far healthier, judging by advertising buys for 2011, which have been strong. And there are indications that after a few years of persistent losses, pockets of the industry are beginning ot hire again.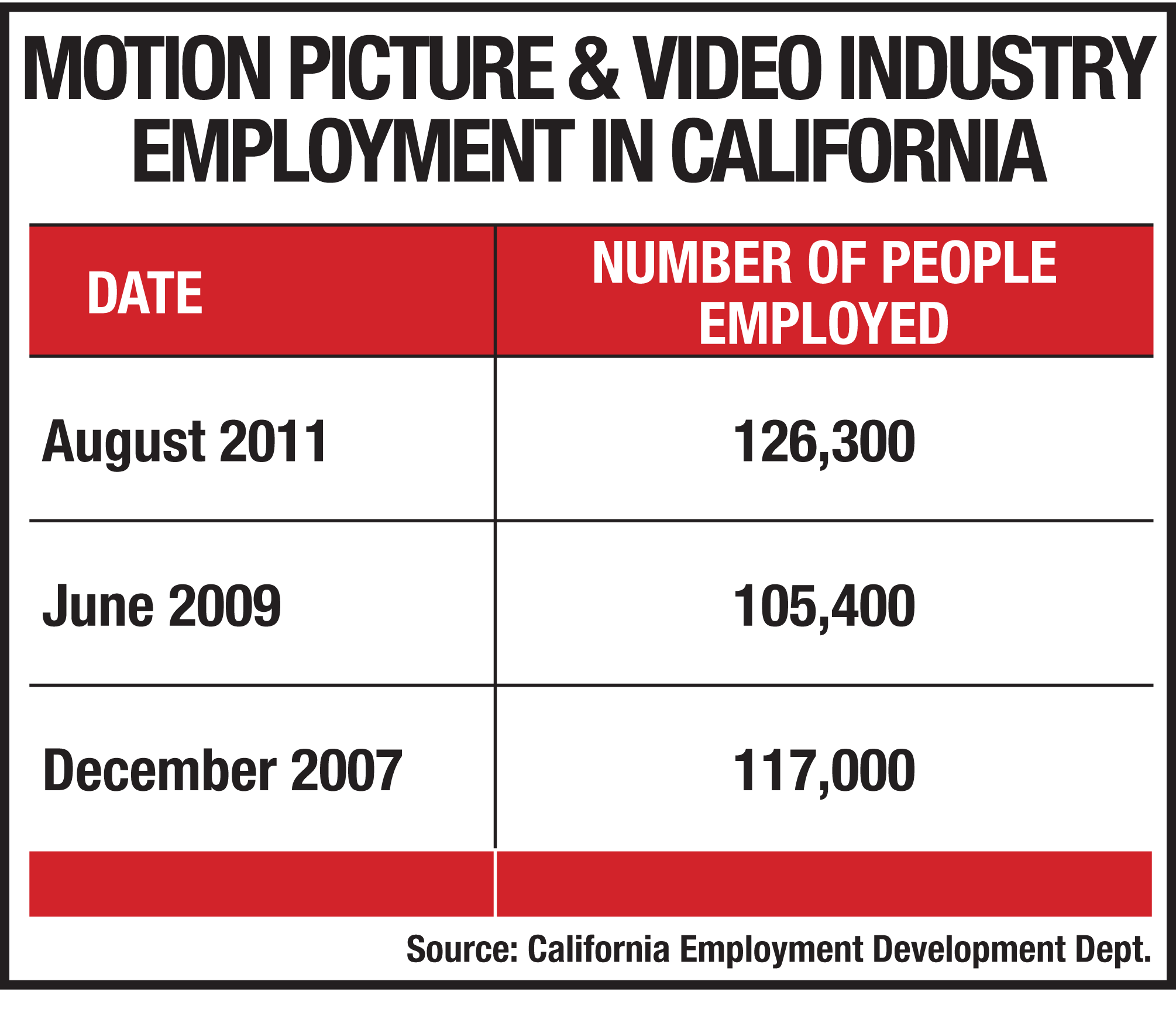 First, the bad news.
In the wake of the financial downturn, the major studios slashed the number of films they were producing in 2010 by nearly 20 percent, according to the Motion Picture Association of America.
Throughout the industry, companies went into cutback mode. Studios shut down or auctioned off speciality arms such as Miramax and Paramount Vantage, eliminating scores of jobs in the process.
Also read: Hollywood Unemployed: A-List Execs Kicked to the Curb
Post-production houses such as Deluxe and Technicolor merged while smaller shops like CFI and Pacific folded, displacing hundreds of workers.
On studio lots, nearly every major studio shed jobs, particularly in their home entertainment divisions, with the likes of Sony and Warner Bros. letting hundreds of employees go in order to stay in the black. They also slashed away at producer deals and movie budgets, adding more people to the unemployment rolls.
And the butcher's cleaver hasn't gone back on the shelf just yet. Last month, Paramount announced that it is merging its home entertainment, licensing and digital operations, and Disney consolidated its toys arm and home entertainment into a single division, which will almost certainly lead to more staff cuts.
Studio executives tell TheWrap that more companies are likely to follow Paramount and Disney's lead.
"It's always been a relatively small industry, and it was always competitive, but there are many, many more people trying to get in today," Michael Taylor, chair of USC's Division of Film & Television Production, told TheWrap. "It wasn't that long ago that there were only a handful of film schools in the country, but today it seems like every single college or university has a film department.
"There are tens of thousands of people flooding into an industry that doesn't have the capacity to absorb them."
Though California hasn't abandoned its status as the movie industry's base, the state was particularly hard hit by the downturn. Runaway production exacerbated the problem. All told it has cost the state $2.4 billion in wages and $4.2 billion in total economic output since 1997, according to the Milken Institute, as more and more films fled the golden state for the generous  tax incentives being doled out by Michigan, Louisiana and other states.
But there are some green shoots. Some signs that the industry is beginning to shake off the body blow dealt by the recession:
>> In both the film and television industry, employment in California has inched back to some of the highest levels in the past decade.
>> Currently, there are 126,300 people employed in the motion picture and video industry, an increase of 3,000 jobs from a month ago, according to the California Dept. of Labor. That's a big gain from the 117,000 jobs logged by the sector in December of 2007 when the country officially slid into recession, and also represents an increase from the 105,400 jobs recorded when the recession was declared over in June 2009.
Also read: California's Unemployment Rate Jumps to 12.1%, But Hollywood Is a Mixed Bag
>> The television business has nearly returned to pre-recession levels. The number of Californians employed in television and radio remained flat at 28,700 jobs in August, but that tally represents an increase from the 26,500 jobs recorded in June 2009, when the recession supposedly lifted. At this rate, the industry is close to matching the 28,800 jobs logged in the sector in December 2007, when the crisis began.
>> Film and television productions in Los Angeles are also on the upswing, particularly after the state government extended film tax incentives for another year. Film, TV and commercial production work shot up 15.4 percent in the third quarter, according to a regular survey conducted by non-profit group FilmL.A This increase was driven primarily by a dramatic uptick in filming of features, up early 50 percent from the third quarter of 2010.
>> Across the country in New York, a five-year extension of film tax credits has boosted the number of productions in the state. New York  currently is on track to have 130 projects shot there this year, which will generate $1.5 billion in spending. Last year, 92 projects filmed in New York, generating  $1.4 billion, according to the New York Film Commission.
Of course, the European debt crisis threatens to worsen, and its aftershocks could trigger the kind of financial meltdown in this country that would plunge America and its entertainment industry into the dark days of 2008.
"In terms of local impact, there's a clear uptick and a sense that we're coming out of the recession," Kevin Klowden, director of the Milken Institute's California Center, told TheWrap. "But there is a very real chance of it getting worse, and that's worth keeping in mind. We don't know what's going to happen in Europe and how that will impact the situation."
Next: Is TV Really Doing Better?