Nearly six weeks in, the summer box office is running about seven percent ahead of last year, when "The Avengers" dominated at the expense of its rivals.
It's the depth of the marketplace. Last year at this time, "The Avengers" was assembling 41 percent of the market's grosses. This year, Disney's Marvel superhero saga "Iron Man 3" has been dominating — its nearly $400 million domestic haul is double that of runner-up "Fast & Furious 6" — but represents just 27 percent of the overall box office, according to BoxOffice.Mojo.
Also read: Best May Ever at the Box Office – Are We in for a Record Summer, Too?
It's played out pretty much as expected, with "Iron Man 3," "Fast & Furious 6" and "Star Trek Into Darkness" the top three films. "The Great Gatsby" out-earning "The Hangover Part III" is surprising, as was the crash-landing of Will and Jaden Smith's "After Earth." The strength of "Now Your See Me" and the big payday for "The Purge" were also both surprising.
But the rest of summer seems less predictable, and there are several intriguing questions. Such as:
How sure a bet is "Man of Steel"?
Tracking has the Warner Bros.-Legendary superhero reboot opening at $85 million this weekend, but that should rise to $100 million by Thursday. Early reviews suggest that director Zach Snyder's film and Henry Cavill's portrayal of the traditionally squeaky-clean Superman reflect the darker vision of producer Christopher Nolan, which brightens the box office picture considerably. "The more 'Man of Steel' gives moviegoers the sense that it is crossing over from the Batman universe, the more it has the potential to do the kind of blockbuster business that the "Dark Knight" films did," BoxOffice.com senior analyst Phil Contrino told TheWrap. Warner Bros. would love to create a DC Comics universe to parallel that of Disney's stable of Marvel superheroes and villains, and hope that this $225 million action movie will be the kickoff. Negatives? Good but not great reviews, the perception that Superman is your father's superhero and fact that Snyder's last two directing efforts, "Sucker Punch" and "Legends of the Guardians," have disappointed.
The answer: Damn sure
Also read: 'Man of Steel' Reviews: Is This the Best Superman Movie Ever?
Can "World War Z" throw a scare into "Monsters University"?
Disney and Pixar will be going for their 14th consecutive No. 1 opening on June 21, the same day Paramount rolls out its Brad Pitt zombie epic "World War Z." Facebook "likes" have been significant for months and early projections have the monsters-go-to-college tale opening to $80 million. That's roughly double what the zombie epic is looking at, most analysts say. Still, Pitt has been money in big projects and this one certainly qualifies with its $225 million budget. Pitt has been pushing the film with old-school personal appearances, and his presence ensures this will draw more women than most zombie movies and that it could even become a date-night movie. In this crowded marketplace, a $40 million debut would be pretty good, particularly since "Z" appears to have real potential to score overseas. But that price tag makes all the difference.
Answer: Not likely.
Also read: China Censors Rejected Brad Pitt's 'World War Z' (Exclusive)
Is there one too many president-in-peril movies out there?
Roland Emmerich ("2012") is directing and Channing Tatum and Jamie Foxx star but it's possible that Sony is late to the party with its $150 million "White House Down." In it, a paramilitary group takes over the White House, a premise very close to the plot line of Film District's March release "Olympus Has Fallen," a thriller with a smaller budget and lesser stars. "How much 'Olympus' affects 'White House Down' we'll never know," Contrino said, "but it has to have some effect, because it's made nearly $100 million." "White House" is currently projected to land at around $35 million. Look for Sony to ramp up the marketing campaign and highlight the Foxx-Tatum relationship and the fact that Emmerich blows things up with the best of them before its June 28 release.
The answer: No, there's been enough time in between.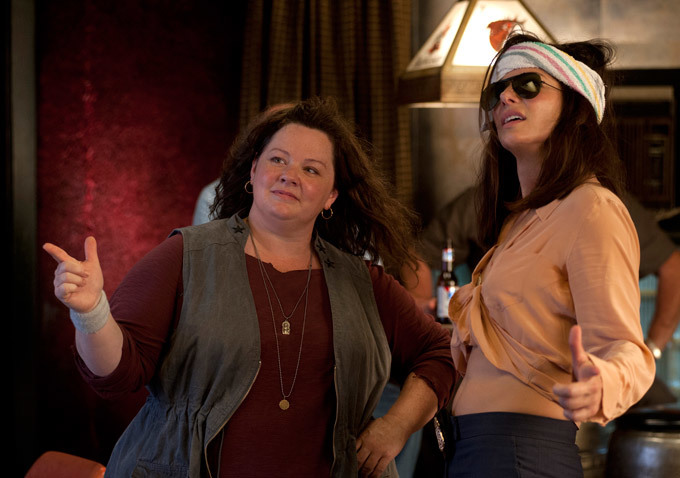 Will there ever be another breakout comedy this year?
Since "Identity Thief" clicked in January, "The Internship" has joined "Admission," "The Incredible Burt Wonderstone" and "The Big Wedding" on the list of original comedies that have failed to draw box-office belly laughs this year. Seth Rogen's "This Is the End" has a shot, but his Hollywood hipster posse may come off as too smug in the Heartland. A better bet to break out big-time is Fox's "The Heat," which stars Melissa McCarthy as a crusty Boston cop and Sandra Bullock as an FBI agent, and rolls out on June 28. Not only will laugh-starved audiences be ready for a comedy, but women will be glad to see a summer movie with female protagonists. Projections have it in the $35 million range now, but look for that to rise.
The answer: Yes, but hang on.
Also read: Even With 'Hangover III,' State of Movie Comedies No Laughing Matter
How badly is "Despicable Me 2" going to beat up "The Lone Ranger"?
There is irony in the fact that a family movie is going to be providing the fireworks over the July 4 weekend, rather than the Disney tentpole it's going up against. Universal's minions movie has been flexing serious Facebook muscle for months, and analysts have it on course for a $75 million debut. There was a thought at one time that producer Jerry Bruckheimer and Johnny Depp, the team behind Disney's $3.7 billion-dollar "Pirates of the Caribbean" franchise, could do for cowboys what they did for the Jolly Roger crowd. With "The Lone Ranger" projected to open at around $35 million, that's a real long shot now. The best bet for it to recoup some of its $225 million production budget seems to be overseas — where Westerns don't normally draw. "It's really an action movie," said one executive close to the film. "They ride horses, but it's an action movie." The answer: It won't be pretty.
Can you sell a summer tentpole movie when the biggest name is the director?
Warner Bros. is betting big — as in an estimated $180 million production budget — that Guillermo del Toro can draw moviegoers for his battling giant robot epic, "Pacific Rim." Del Toro hasn't been shy about using his name before, as he did as executive producer of Universal's horror hit "Mama" earlier this year. "But this is Guillermo's biggest movie ever and his moment," Bock said. It's also the studio's chance to launch a franchise like "Transformers." It's opening on July 12, against Sony's comedy "Grown Ups 2," just a week after the July 4 holiday, when "Despicable Me 2" and "The Lone Ranger" roll out. Still, there is significant excitement among Del Toro's considerable fan base. "Young boys and men are going to be there for this one," Bock said, "but are women going to come out to see guys blowing up monster robots?"
The answer: It won't be easy.
Is there any way that "R.I.P.D." won't be the summer's biggest bomb? Jeff Bridges and Ryan Reynolds bring the star power as undead cops in this pricey supernatural tale based on the comic book "Rest in Peace Department." But the online response from the comics crowd so far has been blistering, conjuring memories of the buzz "Jonah Hex" was drawing prior to its 2009 box-office pratfall. "Its cost (an estimated $130 million) stacks the deck against it," Bock said. "And it's a week after 'Pacific Rim.' If that one clicks, and with 'Wolverine' a week later, it's going to get shredded." It's also going up against the DreamWorks Animation kids film "Turbo," horror film "The Conjuring" and the action comedy "Red 2." Universal has had a strong summer already, and with "Despicable Me 2" and "Two Guns" on the way, "R.I.P.D." looks like a very big blip. "With its ghosts and all, this might have been a good Halloween release," Bock said.
The answer: Yes, if it moves to October.