Alice Ward, who was portrayed with Oscar-winning flare by Melissa Leo in "The Fighter," died Wednesday morning at a Boston hospital after a long illness.
She was 79.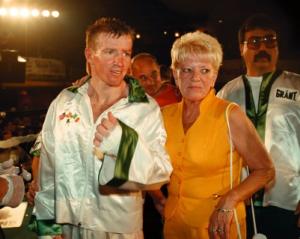 Ward was the mother of "Irish" Mickey Ward (they're both seen pictured left) and Dicky Ecklund, the boxers respectively played by Mark Wahlberg and Christian Bale in "The Fighter."
Ward went into cardiac arrest in January and was taken off of life support at the Spaulding Rehabilitation Hospital on Tuesday.
(Photo courtesy of the Lowell Sun.)