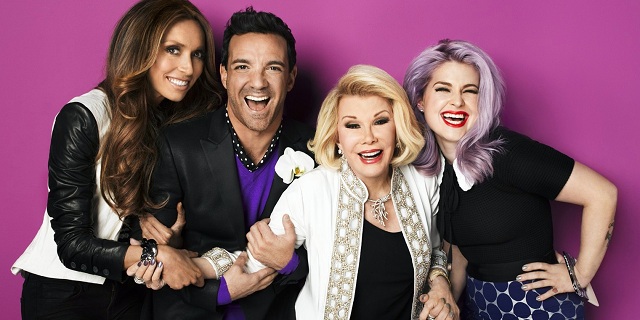 The Writers Guild of America East has determined the three-member panel that will serve as judges on a trial board convened to address charges facing "Fashion Police" host Joan Rivers.
The Writers Guild says Rivers, a guild member, violated its bylaws by functioning as a writer at the same time that her writing staff – which is trying to force the E! Entertainment show to recognize them as WGA employees – is on strike. Penalties could be as severe as a fine or expulsion.
The names of the panel members were not released by the WGAE, and no date for the trial has been set, pending notification of Rivers. At the hearing, she will be given the opportunity to present her case directly to the trial board, which will also hear evidence, including from the striking writers, the guild said.
Calls to her publicist on Thursday were not returned.
Also read: Striking 'Fashion Police' Writers Bash Joan Rivers in Video
Nine "Fashion Police" writers have been on strike since April 17, after expressing a desire to organize and join the Writers Guild of America West. The writers want the network to recognize the WGA as their bargaining representative, while the Comcast-owned E! Network is insisting that a National Labor Relations Board election be held first.
Weeks before going on strike, the writers filed $1.5 million in wage and hour claims with the California Division of Labor Standard Enforcement against the network and Rivers' production company, Rugby productions. They are seeking payment for regular and overtime hours that they say they worked but were not paid for.
The WGA helped their writers file the claims and has sanctioned the strike, and told its 12,000 members that they should not work on the show until the matter is settled.