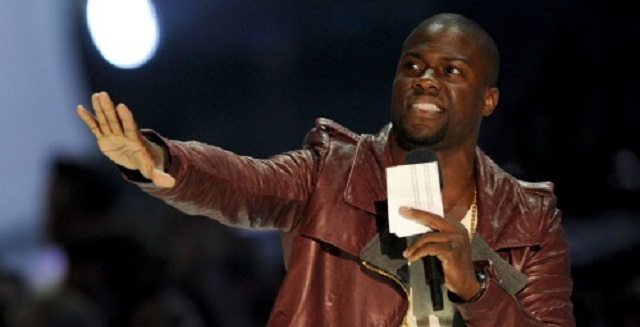 If you don't know who Kevin Hart is, you probably will soon.
The stand-up comedian's new movie "Kevin Hart: Let Me Explain" was overshadowed at the weekend box office by the success of "Despicable Me 2" and the misfire of "The Lone Ranger," but it was a good one.
"Let Me Explain," filmed last year at a sold-out Madison Square Garden concert, brought in $10.1 million between Friday and Sunday and will finish with a surpisingly strong $17.4 million for the long holiday weekend. That's pretty impressive, since the film from Lionsgate's Codeblack Films and the comedian's HartBeat Productions cost just $2.5 million to make and was in just 836 theaters.
Also read: Johnny Depp Can't save 'The Lone Ranger' From Being a 'John Carter'-Sized Bomb for Disney
The $11,530 per-screen average for "Let Me Explain" was better than any film in wide release except for "Despicable Me 2." And it's a very big step up from his last concert film, "Laugh at My Pain," which topped out at $7.7 million last year.
The film received an "A" CinemaScore, suggesting it's going play well for the next several weeks. Targeting primarily African-American audiences, the R-rated "Let Me Explain" drew crowds that were 55 percent female and 54 percent 25 years of age and older.
Also read: 'Despicable Me 2' Snaps 'Toy Story 3' Record With $140M Box Office Debut
And Hart has no less than five movies set for release over the next several months, including "Ride Along" (with Ice Cube), "Grudge Match" (with Robert De Niro and Sylvester Stallone), "School Dance" (from director Nick Cannon), a remake of "About Last Night" and a reteaming with Lionsgate in "Quick and Easy."
Also read: Chris Rock Casts Kevin Hart, J.B. Smoove, Sherri Shepherd in New Comedy (Exclusive)
"The challenge for us was cutting through the clutter surrounding the holiday and the other movies," Lionsgate's executive vice president for theatrical distribution David Spitz told TheWrap. "Our marketing team did a great job of that, and we got a real boost from Kevin on social media."
Hart has a strong online following, with 7.7 million Twitter followers. He was celebrating his movie's success Sunday, and his July 3 birthday.
"I can't remember anything from last night LMFAO," he tweeted. "That means that I had the best BIRTHDAY EVER!!!!