Kristen Stewart is the new cash queen of Hollywood.
The "Twilight" star has bested such established thespians as Angelina Jolie, Cameron Diaz and Sandra Bullock to top Forbes' annual list of Top-Earning Actresses.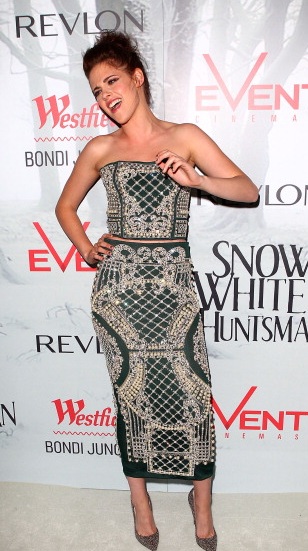 Also read: "Twilight" Teaser Trailer Features Tiny Offspring of Robert Pattinson, Kristen Stewart
According to Forbes, Stewart took in $34.5 million between May 2011 and May 2012.
That tally accounts for the $12.5 million she reportedly took in for each "The Twilight Saga — Breaking Dawn" film, plus her new fairy-tale revamp, "Snow White and the Huntsman."
Also read: Cannes 2012: Kristen Stewart Embraces Topless, Beatnik Role in "On the Road"
Oh, and did we mention that, at 22, Stewart is also by far the youngest actress on the list?
For fans of celebrity rivalries, it's probably also worth noting that Stewart handily beat out her "Huntsman" co-star, who only earned $18 million, according to Forbes.
Also read: Supercouple Smackdown at Cannes: Kristen Stewart and Robert Pattinson vs. Angelina Jolie and Brad Pitt
Forbes took upfront pay, profit participation, residuals, endorsements and advertising work when compiling its tallies.
Diaz came in a close second, taking in an estimated $34 million based on the unexpected hit "Bad Teacher," and other entries such as "What to Expect When You're Expecting" and "The Green Hornet."
Sandra Bullock rounds out the list's Top 3, with an estimated $25 million earned between May 2011 and May 2012.
Read the full list below.
1) Kristen Stewart, $34.5 million
2) Cameron Diaz, $34 million
3) Sandra Bullock, $25 million
4) Angelina Jolie, $20 million
5) Charlize Theron, $18 million
6) Julia Roberts, $16 million
7) Sarah Jessica Parker, $15 million
8) Meryl Streep, $12 million
9) Kristen Wiig, $12 million
10) Jennifer Aniston, $11 million