Fox Searchlight's R-rated thriller "Martha Marcy May Marlene" grossed a solid $137,541 in four theaters this weekend for a per-screen average of $34,385, according to studio estimates.
Among indie films in the domestic market, that gives the Sean Durkin's movie the biggest per-screen average of the weekend.
Another Sundance hit, Roadside Attractions' "Margin Call," opened to strong numbers this weekend, as well.
It grossed $582,400 on 56 screens, for a per screen average of $10,400.
The disturbing "Martha Marcy May Marlene," which stars Elizabeth Olsen as a woman who flees from an abusive cult, will be released in 10 more locations on Oct. 28.
Fox Searchlight bought the movie, which also stars Sarah Paulson, John Hawkes and Hugh Dancy, for between $1.5 million – $2 million.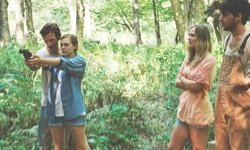 Durkin wrote and directed the film, which won best drama at this year's Sundance Film Festival, where it premiered.
Also read: Elizabeth Olsen: 'Martha Marcy' Breakout Star on Fear, Fame and That Confounding Ending
Meanwhile, Roadside co-presient Howard Cohan told TheWrap, "It's amazing. We're very happy," speaking to the opening of the Kevin Spacey-led "Margin Call."
The movie is about the financial collapse of 2008, and Cohen said that the Occupy Wall Street movement has spotlighted the issue lately.
"It was a double-edged sword," he said. "We were worried that … people would feel like it was everywhere in the news, and they didn't want to see a movie about it, but what it did get us was an enormous amount of publicity."
He said the R-rated drama sold out many locations and had a record $32,750 at the Elinor Bunin Film Center in New York.
Tthe movie was released on video on demand the same day it opened theatrically. Cohen said VOD grosses have not yet been tallied — but the strategy obviously didn't hurt theatrical sales.
On VOD, the movie costs $7.00. Yet Cohen said it will be on 135 screens beginning Oct. 28, and will probably expand to 200 screens.
J.C. Chandor wrote "Margin Call," which stars Spacey, Zachary Quinto, Jeremy Irons, Stanley Tucci and Demi Moore, among others.
Other limited releases this weekend include Pedro Almodovar's "The Skin I Live In," a Sony Classics picture that grossed an estimated $248,000 at 21 locations. That gave the scary R-rated movie a per-screen average of $11,790 in its second weekend of release.
And "Being Elmo," Submarine Deluxe's documentary about the man behind Sesame Street's "Elmo" character, opened at the IFC Center in New York to $25,158. Constance Marks directed and produced. Phillip Shane co-directed, wrote and edited.