Robert De Niro and Harvey Weinstein opened Ago. Eva Longoria has Latin-flavored Beso, Jennifer Lopez has Madre's and Ryan Gosling has Tagine. Ashton Kutcher's even got his own star-studded Dolce Group behind Geisha House and Ketchup.
Nothing so tony for actor-writer-director Mike Binder. With a little help from friends Sam Raimi, Tim Allen and Adam Sandler, Binder is bringing a taste of his sloppy, down-home Detroit to Sunset Strip.
Nestled between the Whisky a Go-Go and the Viper Room is Binder's new take on Michigan's signature Lafayette Coney Dog.
The napkin-necessitating Dog — topped with chili, onions and mustard — is a taste Binder has wanted to bring to L.A. since moving out here 25 years ago.
Also see slideshow: Inside Mike Binder's Detroit Transplant
Then a doorman at the Comedy Store, Binder (right) would host fundraisers for Detroit's Midnight Mission homeless recovery with childhood best friend Sam Raimi and Allen — who grew up in the Detroit suburb of Birmingham.
On the menu: the chili dogs Binder grew up with.
"All these Detroiters would come, and they loved it," Binder told TheWrap. "I always thought, somebody should put one on Sunset Boulevard that's open all night, like the original one — where you could come in and get a beer and a hot dog after the Viper Room and the Roxy."
Finally, he decided it was time to take the plunge, setting the plan in motion last year. Not only did Allen and Raimi jump on board, but they brought along Adam Sandler, whom Binder had taken to a Coney Dog while they were in Detroit for the premiere of Sandler's "Reign Over Me," which Binder wrote and directed.
Detroit Red Wings player Kris Draper and New York Jets wide receiver Braylon Edwards also joined the team to bring Detroit out West.
Fittingly, the actual opening – in September – will be a fundraiser for the Midnight Mission, hosted by Michigan heavyweights Kid Rock and Magic Johnson, with help from Mitch Albom.
While Binder's celeb friends sponsors are making their presence known at the restaurant, Binder is the one spearheading the project. In the tradition of Lafeyette Coney's original entrepreneurs, he enlists the help of his family — his niece and daughter both work as servers, with business input from his wife, Dianne.
The Coney Dog isn't a franchise, though — more of a style of restaurant. There are a ton of Coney restaurants in Michigan, with the following staples on their menu: a Coney dog, loose burgers (ground beef served with chili, mustard and onions on a hotdog bun) and beer.
"I kind of attacked it like making a movie — that attention to detail," Binder told TheWrap. "Getting the silverware just right like those old-time Detroit places, getting the plates, having the Faygo pop and the Vernors."
Indeed, nearly everything on the menu is exclusively Michigan, from the chili to the ice cream, Stroh's beer, and of course the pop — that's Midwest speak for "soda."
Faygo is a 100 percent cane sugar soda that's pretty much only available in Michigan — but Binder changed that.
"We had this huge order last week, the next day we called with another order, they thought we were kidding and it was a prank call. It's so good. We also went through almost 30 cases of Stroh's in two days."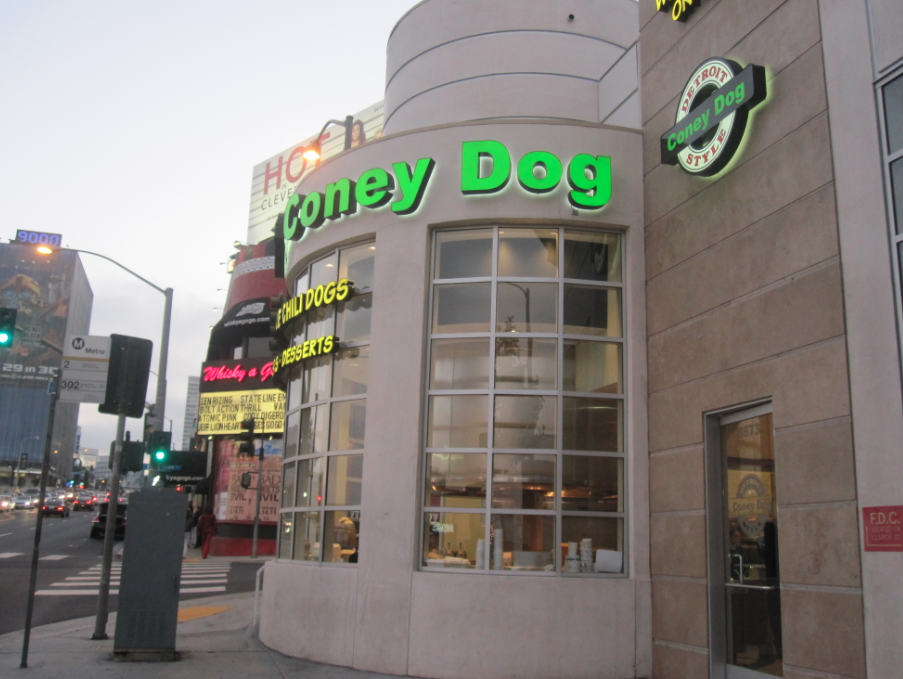 To drum up interest, Binder set up a Facebook page. It got so popular he set up a soft open last Sunday for Facebook fans. "There was a line all day long," Binder told TheWrap early Friday evening. "At 11 tonight, you'll be lucky if you can find a seat."
Binder is also planning parties to aid the re-election of another Coney Dog supporter: Michigan State Sen. Debbie Stabenow.
And Coney Dog will be around for every Detroit Red Wings game as well as Dodger and Laker games. Binder hopes to use some of his proceeds to raise money for a film about a year in the life of Detroit filmmakers.
Binder guesses that at any given moment, more than half the patrons of Coney Dog are Detroit ex-pats. But to show his allegiance to Los Angeles, he added a vegan dog and turkey burger options to their menu, a decision prompted by his vegetarian wife.
"Dianne's played a huge part in this — she's really good at business," he told TheWrap.