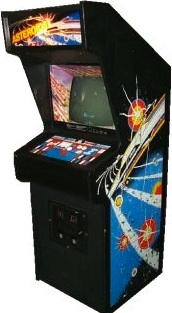 In "Invasion of the Space Invaders," his long out-of-print 1982 book about the arcade video game phenomenon of the era (which kicks off with an introduction by Steven Spielberg), novelist Martin Amis described the gameplay of the seminal 1979 title Asteroids in an extraordinary way.
"Don't go mad and reduce the whole screen to rubble," wrote the book's improbable author. "You'll find yourself dodging bricks, and will be stoned to death like an Iranian rapist."
It's too soon to tell whether that impressive quote will be the tagline of Universal's possible upcoming adaptation of the hugely successful vector-graphics Atari game about an almost sad-looking spaceship stuck in an asteroid field teeming with hostile UFOs.
But we do know this: Roland Emmerich may direct it.
According to Vulture, Universal has offered the job to Emmerich, who directed the disaster flicks "Independence Day" and "2012." The company won a bidding war in 2009 for the rights to turn the quarter-sucking classic into a movie and are developing the film with "Transformers: Dark of the Moon" producer Lorenzo di Bonaventura.