"Fishing Without Nets," a film about Somali pirates told from the pirates' perspective, won the Cinedigm Jury prize on Tuesday at the ShortList, TheWrap's first inaugural Short Film Festival.
With that honor, director Cutter Hodierne (pictured above) nets a $60,000 reward from Panavision to be used on camera equipment for a future filmmaking project.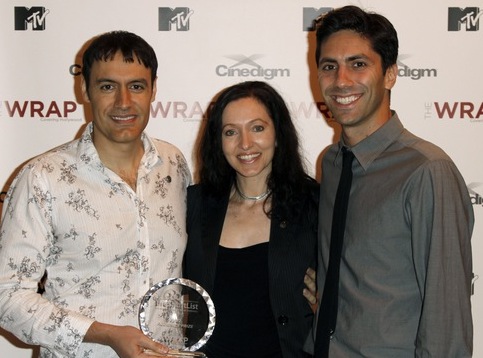 (At left, "The Maker" director Christopher Kezelos; his wife Christine, who also produced; and "Catfish's" Nev Schulman, who presented.)
The jury lauded Hodierne's film "for its strong technique, stunning cinematography and for taking us on an eye-opening journey to a world rarely depicted on film."
The five-member jury, made up of Howard Cohen, co-president of Roadside Attractions, producers Cassian Elwes and Lynette Howell, actor Zachary Quinto and Michelle Satter, founding director of the Sundance Insitute's Feature Film Program, had 12 films to choose from.
Though "Fishing" won the top prize, the jury also awarded "A Brief History of John Baldessari, a film" from "Catfish" filmmakers Henry Joost and Ariel Schulman, with a special mention "for its irreverent voice and ability to so fully capture the nature of its eccentric provocateur subject in such a compact form."
Schulman's brother Nev, a subject of and fellow creative force behind "Catfish," announced the awards from the Sony lot's Backstage Theater with actress Mary-Elizabeth Winstead.
As for the audience's top choice, that was "The Maker," a five-minute short about a lonely creature who must create another creature before his own demise, directed by Christophe
r Kezelos. The film won that contest in a landslide with 4,262 votes.
MTV, a co-sponsor of the event, will air the winners on VH1 Classic and MTV.com, offering promotion across its family of channels.
The director of both the audience and jury prizes receives a new Sony Alpha A77 DLSR Cameras, as well as a first-look deal with Cinedigm.
Hodierne thanked the jury and his producing team, and said he intended to use the Panavision package immediately, since he was returning to Africa this week to begin work on a feature-length version of "Fishing Without Nets."
As for Kezelos, he is writing a script for a full-length version of his stop-motion film, which will be shown on the Virgin Produced Channel onboard Virgin Airlines
The jury participated in a panel discussion about shorts, giving the filmmakers advice about length of shorts – shorter was better, they suggested – and how to use their film as a calling card for their career.
Quinto urged the filmmakers to be as specific as possible with their filmmaking aims.
Howell told the filmmakers that short films were the best way to learn and make mistakes. "Shorts allow you to work in the medium of film and educate yourself. It's much better to do that in 15 minutes or less than on a 90 minute feature," she said.
Meanwhile, the filmmakers themselves were asked how much they spent making the shorts. They shouted from the audience sums from $12,000 down to $1,000.